Practical Counselling Skills: An Integrative Approach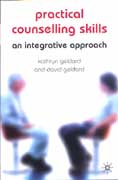 Book Details
Publisher : Palgrave
Published : 2005
Cover : Paperback
Category :
Counselling
Catalogue No : 21738
ISBN 13 : 9781403945136
ISBN 10 : 1403945136
Reviews and Endorsements
Contents: PART ONE: COUNSELLING; AN OVERVIEW; What is Counselling?; The Counselling Relationship; PART TWO: BASIC PRINCIPLES AND SKILLS; Learning the Necessary Skills; Joining and Listening; Paraphrasing of Content; Reflection of Feelings; Paraphrasing Content and Reflection of Feeling; Use and Abuse of Questions; Summarising; Creating Comfortable Closure; PART THREE: PROMOTING CHANGE THROUGH THE USE OF AN INTEGRATIVE APPROACH; An Integrative Approach to Helping People Change; Combining Skills to Facilitate the Change Process; PART FOUR: ADDITIONAL SKILLS FOR PROMOTING CHANGE; Confrontation; Normalising; Reframing; Challenging Self-Destructive Beliefs; Exploring Polarities; Enabling the Client to Make Use of their Strengths; Using the 'Here and Now' Experience; Exploring Options; Facilitating Action; PART FIVE: PRACTICAL, PROFESSIONAL AND ETHICAL ISSUES; The Counselling Environment; Keeping Records of Counselling Sessions; Cultural Issues; Influence of the Counsellor's Values and Beliefs; Confidentiality and Other Ethical Issues; The Need for Supervision; Looking After Yourself; PART SIX: PRACTICAL EXAMPLES FOR STUDENTS; REFERENCES

Author Biographies:
KATHRYN AND DAVID GELDARD work together in their private practice as counsellors, and as trainers and supervisors of other counsellors. Kathryn is a child and family therapist and occupational therapist. David is a psychologist. Together they have co-authored the books
'Counselling Skills in Everyday Life', 'Working with Children in Groups', 'Counselling Children', and 'Counselling Adolescents'.