Pierre Delion on Psychopolitics: 'What is Institutional Psychotherapy?' and 'The Republic of False Selves'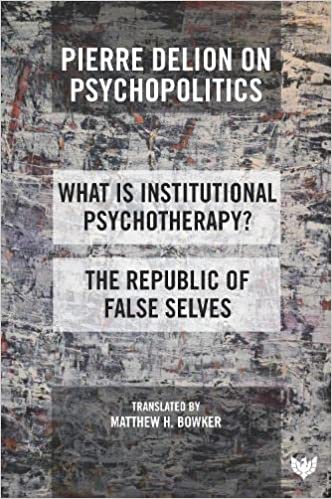 Also by Matthew H. Bowker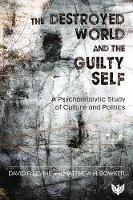 Pierre Delion is Professor Emeritus in the faculty of medicine at Lille, a child psychiatrist, and a psychoanalyst. His work is as straightforward as it is affecting but is little read in the English-speaking world due to a lack of translation into English. Matthew Bowker, in his excellent translation, rectifies this unfortunate deficit to introduce English-language readers to the affecting and wide-ranging work of Pierre Delion through two of his best-known essays.
What is Institutional Psychotherapy? examines the psychiatric establishment and institution, arguing that for institutional psychotherapy to be effective, we must "care for the institution" just as we must attend to the "transferential constellation" of the patient, the latter of which emerges only when the institution respects all the voices (including the patient's) involved in the patient's care. And, as Delion duly notes: "What holds for person-to-person psychiatry also holds true for democracy."
The Republic of False Selves maintains that our social bonds have been damaged or destroyed to the extent that the practice and meaning of democracy itself are now in question. Democracy, for Delion, "refers not only to forms of government, but also to a society based on freedom and equality, or more generally still, to a set of values: political, social, or cultural ideals and principles." The democratic project, then, is threatened by contemporary political events, media images, neoliberal and techno-bureaucratic interventions, and even or especially the treatment of the mentally ill.
The combination of these two works into a single text invites readers to consider the broader political connections between the clinical institution and society as a whole. Delion's careful thoughtfulness paired with his vast experience and understanding opens up new avenues of discovery to the reader.
Reviews and Endorsements
'In the small book The Republic of False Selves, Pierre Delion masterfully analyzed the historical conditions behind today's deleterious public health situation before it took hold. Freedom of movement, of speech, of thought – in institutions, the minds of citizens, and in society as a whole – requires a democratic system. That these freedoms could be at risk is a shock to some. The concept that a human and – psychoanalytically thought – transferential psychiatric, teaching, and care system define the contours of democracy is the subject of Delion's ongoing struggle and life's work.'
Mileen Janssens, psychoanalyst in private practice, Ghent, Belgium
Table of Contents

Translator's introduction by Matthew H. Bowker
About the author
About the translator

What is Institutional Psychotherapy?: A Conversation with Yasuo Miwaki
Note on the Present Work
1. Establishments and Institutions
2. Active Therapy
2.1. Insanity and Social Alienation
2.2. Multi-referential Transference and Dissociated Transference
2.3. What is a Transferential Constellation?
2.4. Transferential Constellations and Organizational Difficulties
2.5. Projective Identification and Adhesive Identification
3. Institutional Psychotherapy and Antipsychiatry
4. Transversality and Institutional Analysis
5. Home Function
6. Continuity of Care
7. The Flesh, the Thing
8. Deinstitutionalize?
9. Sector Psychiatry
10. Work and Adaptation

The Republic of False Selves
Preface
1. Politics
2. Media, Opinions, Images
3. But What is a False Self?
4. Societal Changes in Relation to the Inflation of the Image
5. Discomfort in the Helping Relationship
6. Is There Still a Subject in Man?
7. The Psychiatric Revolution
8. Sector Psychiatry and Institutional Psychotherapy
9. Medicine with a Human Face
10. Human Psychiatry
11. By Way of Conclusion
About the Author(s)
Pierre Delion is Professor Emeritus of child psychiatry at the University of Lille, former chief of the Lille UHC Child Psychiatry Department, and psychoanalyst. He has worked extensively with autism, psychosis and all archaic pathologies, and with babies. He has led several teams of 'sectoral psychiatry', including one in a university hospital, and has focused on combining sectoral psychiatry with institutional psychotherapy in an attempt to encourage humane psychiatric practices. He has written numerous psychiatric works about babies, autism, psychosis, and institutional psychotherapy, and has created an Institute of psychoanalytic psychotherapy for children and adolescents in Lille. He continues to promote humane psychiatry by participating in experience exchange meetings with numerous teams in the health and medico-social sectors, and by giving lectures on psychiatry. He insists on the need not to oppose the neurosciences to transferential psychopathology, but, on the contrary, to use these contributions so as to take into account all the anthropological factors involved in psychic suffering.
Matthew H. Bowker is Clinical Assistant Professor of Humanities at Medaille College in Buffalo, NY. Educated at Columbia University and the University of Maryland, College Park, he brings psychoanalytic, literary, and intellectual-historical approaches to topics in political theory. He has published numerous papers on social theory, ethics, and pedagogy and is the author of several books on the psycho-politics of contemporary life, including: Ideologies of Experience: Trauma, Failure, Deprivation, and the Abandonment of the Self, D.W. Winnicott and Political Theory: Recentering the Subject (with A. Buzby), Rethinking the Politics of Absurdity: Albert Camus, Postmodernity, and the Survival of Innocence, Escargotesque, or, What Is Experience?, Albert Camus and the Political Philosophy of the Absurd: Ambivalence, Resistance, and Creativity, and Ostranenie: On Shame and Knowing.
You may also like