Philosophy in Turbulent Times: Canguilhem, Sartre, Foucault, Althusser, Deleuze, Derrida

Book Details
Publisher : Columbia U.P.
Published : January 2008
Cover : Hardback
Pages : 202
Category :
Culture and Psychoanalysis
Catalogue No : 27553
ISBN 13 : 9780231143004
ISBN 10 : 0231143001
Also by Elisabeth Roudinesco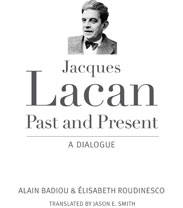 For Elisabeth Roudinesco, a historian of psychoanalysis and one of France's leading intellectuals, Canguilhem, Sartre, Foucault, Althusser, Deleuze, and Derrida represent a 'great generation' of French philosophers who accomplished remarkable work and lived incredible lives. These troubled and innovative thinkers endured World War II and the cultural and political revolution of the 1960s, and their cultural horizon was dominated by Marxism and psychoanalysis, though they were by no means strict adherents to the doctrines of Marx and Freud. Roudinesco knew many of these intellectuals personally, and she weaves an account of their thought through lived experience and reminiscences. In Freudian theory and the philosophy of radical commitment, she sees a bulwark against the kind of manipulative, pill-prescribing, and normalizing psychology that aims to turn individuals into mindless consumers. Intense, clever, and persuasive, "Philosophy in Turbulent Times" captivates with the dynamism of French thought in the twentieth century.
Reviews and Endorsements
Canguilhem, for example, was a distinguished philosopher of science who had a great influence on Foucault's exploration of sanity and madness-themes Althusser lived in a notorious personal drama. And in dramatizing the life of Freud for the screen, Sartre fundamentally altered his own philosophical approach to psychoanalysis. Roudinesco launches a passionate defense of Canguilhem, Sartre, Foucault, Althusser, Deleuze, and Derrida against the 'new philosophers' of the late 1970s and 1980s, who denounced the work - and sometimes the private lives - of this great generation. Roudinesco refutes attempts to tar them, as well as the Marxist and left-wing tradition in general, with the brush of Soviet-style communism.

Contents:
Introduction: In Defense of Critical Thought Note on the Text 1. Georges Canguilhem: A Philosophy of Heroism 2. Jean-Paul Sartre: Psychoanalysis on the Shadowy Banks of the Danube 3. Michel Foucault: Readings of History of Madness 4. Louis Althusser: The Murder Scene 5. Gilles Deleuze: Anti-Oedipal Variations 6. Jacques Derrida: The Moment of Death Select Bibliography

Author Biography:
Elisabeth Roudinesco is director of research at the University of Paris and director of studies at the Ecole Pratique des Hautes-Etudes, Sorbonne. She is the author of a number of critically acclaimed works, including "Jacques Lacan" and "Why Psychoanalysis?"
About the Author(s)
Elisabeth Roudinesco teaches at the Ecole des Hautes Etudes en Sciences Sociales in Paris and is the author of many books.
You may also like