Performance-Based Family Therapy: A Therapist's Guide to Measurable Change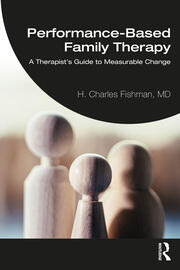 Book Details
Publisher : Routledge
Published : March 2022
Cover : Paperback
Pages : 240
Category :
Family, Couple and Systemic Therapy
Catalogue No : 96295
ISBN 13 : 9780367751616
ISBN 10 : 0367751615
Also by H. Charles Fishman

In this groundbreaking book, Charles Fishman uniquely incorporates and develops results-based accountability (RBA) into the framework of structural family therapy.
Collaborating with the founder of RBA, Mark Friedman, this approach aims to transform the field of family therapy by allowing clinicians to track performance effectively and efficiently with their clients. The book begins by reviewing the historical foundations of family therapy and evaluates why challenges in the field, alternative methods, and the reliance on evidence-based medicine (EBM) have meant that family therapy may not have flourished to the extent that many of us expected. It then explores how RBA can be integrated into intensive structural therapy (IST), with chapters examining how RBA can be applied in context, such as in treating eating disorders, supervision, and how it can be used to transform the professional's clinical contexts. Relevant and practical, the book also introduces the community resource specialist to help in the treatment of socially disadvantaged families, as well as practical appendices and tracking tools to empower clinicians to track their data and choose treatment models that obtain best outcomes.
This new approach offers transparent and measurable outcomes for both clinicians and training family therapists, lending a helping hand in making family therapy the gold standard in psychotherapy. It is essential reading for undergraduate and graduate students of family therapy, course leaders, and all clinicians in professional contexts, such as social workers, psychotherapists, and marriage, couple, and family therapists.
Reviews and Endorsements
'Anyone who has ever been a family therapist or dreamed of being one, will be inspired by Fishman's words and enriched by seeing what it means to fully deal with human problems from a systemic perspective.' - Monica McGoldrick, LCSW, Ph.D., Director of the Multicultural Family Institute, Highland Park, NJ; Adjunct Clinical Faculty, Rutgers Robert Wood Johnson Medical School.

'All therapists, not just those working with couples and families, will benefit from reading his approach and the accompanying case studies.' - Scott Browning, Ph.D., ABPP.

'His clear guidelines and case illustrations speak to practitioners working with multi-stressed families in low-income, marginalized, and under-resourced communities.' - Froma Walsh, Ph.D., Professor Emerita, University of Chicago; Co-Director, Chicago Center for Family Health; Author of Strengthening Family Resilience: Third edition.

'This book should be on the shelf of every practicing family therapist and supervisor as a review, and assigned as a text for every family therapy student.' - Linda Metcalf, Ph.D., Professor.
About the Author(s)
H. Charles Fishman, MD, a master family therapist, has trained and supervised family therapists all over the world with his primary focus on the "power of the family." He has co-authored with Salvador Minuchin a foundational text in family therapy and five other books, including Enduring Change in Eating Disorders: Interventions with Long-Term Results
You may also like