On the Daily Work of Psychodynamic Psychotherapy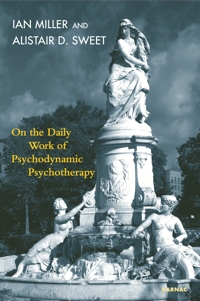 Book Details
Publisher : Routledge
Published : March 2018
Cover : Paperback
Pages : 240
Category :
Individual Psychotherapy
Catalogue No : 39841
ISBN 13 : 9781782205647
ISBN 10 : 1782205640
Also by Ian Miller
On The Daily Work of Psychodynamic Psychotherapy is an operating manual for the challenging, often lonely and confusing work of doing therapy. It locates clinical method in a historical tradition of many contributory workers including: Freud, Breuer, Klein, Segal, Ferenczi, Waelder, Katan, Tausk, Sullivan, Lacan, Green, Rapaport, Winnicott, Bion, and Ogden. In this way, the book links contemporary clinicians within a broad, inter-textual range of psychoanalytic thinking and thinkers. In so doing, it addresses the many areas of blockage and foreclosure that challenge progress in our field, including those rooted in historical eras, cultural assumptions of practice in particular places, exclusionary scholastic orientations and psychoanalytic politics. The authors outline a clinical methodology based in interpretive reflection that has been demonstrated actively from the earliest period of psychoanalysis, toward the therapeutic influence of mind upon mind.
On The Daily Work of Psychodynamic Psychotherapy explores how clinicians orient themselves in the clinical setting, moment by moment. It develops a route of fundamental therapeutic action, applicable under all clinical situations, from the single session consultation to intensive, long term psychoanalytic psychotherapy. At its centre is the daily arrival at a construction we call "d", the transient and evolving understandings co-created by therapist and patient - realisations critical to the generation of therapeutic insight, conviction and the patient's experience and testing of therapy's utility.
About the Author(s)
Ian Miller is a clinical psychologist and psychoanalyst, practicing and writing in Dublin, Ireland, where he also leads clinical study/reading groups. He is the author of Defining Psychoanalysis: Achieving a Vernacular Expression, On Minding and Being Minded: Experiencing Bion and Beckett, and co-author of Beckett and Bion: The (Im)patient Voice in Psychotherapy and Literature (with Kay Souter).
Alistair D. Sweet is director and senior psychotherapist with Meriden Psychotherapy, based in Belfast, United Kingdom. He is also an honorary lecturer and training supervisor in clinical psychology, Queen's University, Belfast. Before entering full-time private practice, he held posts as both senior psychotherapist and head of clinical services with the Northern Ireland Community Addiction Service. His research work on the addictions, disturbances of attachment, and earliest object relations has appeared internationally in a range of peer reviewed journals.
You may also like