Defining Psychoanalysis: Achieving a Vernacular Expression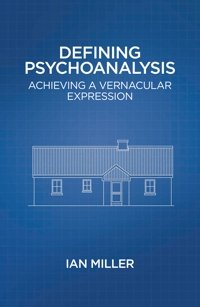 Book Details
Publisher : Routledge
Published : July 2016
Cover : Paperback
Pages : 128
Category :
Psychoanalysis
Catalogue No : 36842
ISBN 13 : 9781782202714
ISBN 10 : 1782202714
Also by Ian Miller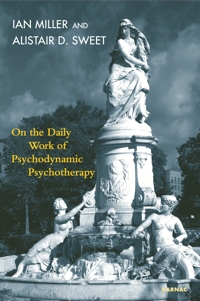 The empirical baseline of today's psychoanalytic vernacular may be inferred from what psychoanalysts read. Contemporary information aggregation provides us with a unique moment in "reading" today's psychoanalytic vernacular. The PEP Archive compiles data on journal articles analogous to radio stations' "hit parades" of contemporary favorites. Defining Psychoanalysis: Achieving a Vernacular Expression provides a close reading of this contemporary assemblage, including three "strong" readings by Winnicott and two by Bion. It pursues the elements generated by these papers as an indication of contemporary psychoanalytic "common sense", our consensual building blocks of theory and practice.
Reviews and Endorsements
'In this innovative, intelligent and explorative book, Ian Miller solves a mystery I have been haunted by for years: how analysts in the twenty first century use texts that were written decades ago. The book provides a masterful theory — a deep understanding of the "vernacular psychoanalytic", a term I believe should be used widely whenever one wants to understand how analysts use and practise their theories.'
— Aner Govrin, author of Conservative and Radical Perspectives on Psychoanalytic Knowledge: The Fascinated and the Disenchanted

'Ian Miller makes the case that every generation, by re-reading and re-understanding the work of writers who have come before, constructs its own "vernacular psychoanalysis". Our contemporary reading, Miller tells us, is a retranscription that represents a discovery of new (and newly relevant) meanings in old sources, just as we discover new significances in our own pasts over the course of life, and in treatment. He illustrates his argument by considering five of the ten articles — three by Winnicott, two by Bion — that were most widely read on PEP in the year 2014–2015. It is impossible for me to say which is more interesting: the innovative way Miller has constructed his argument, or the deep and thoughtful argument itself.'
— Donnel Stern, author of Unformulated Experience: From Dissociation to Imagination in Psychoanalysis and Partners in Thought: Working With Unformulated Experience, Dissociation, and Enactment

'Defining Psychoanalysis is a good starting place for discerning the clinical landscape shared among psychoanalytic practitioners of all varieties in our contemporary world. This voyage of discovery for a vernacular language for psychoanalysis produces a valuable map, indicating five major landmark texts between its origins and the Babel of today.'
— Toni O'Brien Johnson, Irish Forum for Psychoanalytic Psychotherapy, from the Foreword
About the Author(s)
Ian Miller is a clinical psychologist and psychoanalyst, practicing and writing in Dublin, Ireland, where he also leads clinical study/reading groups. He is the author of Defining Psychoanalysis: Achieving a Vernacular Expression, On Minding and Being Minded: Experiencing Bion and Beckett, and co-author of Beckett and Bion: The (Im)patient Voice in Psychotherapy and Literature (with Kay Souter).
You may also like