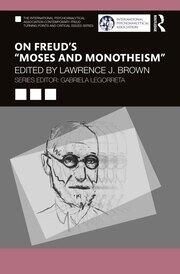 Also by Lawrence J. Brown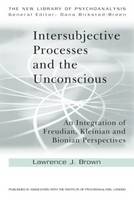 On Freud's "Moses and Monotheism" discusses key themes in Sigmund Freud's final book, Moses and Monotheism, written between 1934 and 1939. The contributors reflect on the historical context of the time during which the book was written, including Freud's mindset and his struggle to leave Austria to escape the Nazi regime, and investigate its contemporary implications and relevance.
Drawing parallels with contemporary society, the chapters cover topics like historical truth, the effects of Nazism on Freud's writing, Freud's "relationship" with Moses, the transmission of trauma across generations, the origins and psychodynamics of anti-Semitism, Freud and Moses as leaders, and the notion of Tradition. This book also reflects on the stories of Moses and of Freud – the search of a people for a "Promised Land," the deep scars of slavery, and the struggle of a man to establish an ideology and ensure its continuity.
On Freud's "Moses and Monotheism" will be of great interest to all psychoanalysts and psychoanalytic psychotherapists. It will also be of interest to scholars investigating the nature of truth, and social scientists interested in the broader applications of Freud's discussions of the nature of civilization.
Reviews and Endorsements
"Freud's Moses and Monotheism was begun in the wake of the rise of Nazi anti-semitism in Europe and completed towards the end of his life. The Editor, Lawrence Brown, states it is a 'fascinating, controversial, quirky, and ultimately thought-provoking work' that is relevant to many of the social and cultural issues that we struggle with today. This volume, written by an outstanding international cast of psychoanalysts and scholars, not only offers contemporary readers a window into Freud's personal biography and final thoughts, but explicates and extends Freud's understanding of a wide range of topics from large group dynamics and the nature of leadership and religion to Biblical/ethnographic studies and, of course, addresses many topics of psychoanalytic interest, including phylogenesis, metapsychology, the intergenerational transmission of trauma, the nature of memory, historical truth and psychical reality, and the origins of neurosis in the individual and society. The depth and intelligence of this volume promises to restore Freud's final book contribution to its rightful place as a testament to the continued relevance of his insights and intuitions." - Howard B. Levine, MD, Editor-in-Chief, Routledge W.R. Bion Studies Series

"Freud's works are an inexhaustible source of inspiration and knowledge. In On Freud's 'Moses and Monotheism,' Lawrence Brown offers a selection of fascinating writings on what can be considered Freud's most personal book, the one that reveals his passions and torments. The fact that Moses and Monotheism is such a controversial, flawed, and in many ways obscure book becomes a richer asset due to the multitude of contemporary interpretations that lurk in the folds of this last 'non-analytic' child of Freud. The authors, psychoanalysts from different parts of the world, each offer their own Moses and their own Freud. The reader thus has the opportunity to meet living and contemporary characters, who give this classic a new surprising vitality. I highly recommend reading On Freud's 'Moses and Monotheism' to all psychoanalysts, scholars of humanities, and anyone who is interested in psychoanalytic thought." - Giuseppe Civitarese, author, Sublime Subjects: Aesthetic Experience and Intersubjectivity in Psychoanalysis

"Of all the books and articles that constitute Freud's legacy, his late work on Moses and Monotheism is perhaps one of the most puzzling and, as such, difficult to master... or to ignore. Unsurprisingly, it has been controversial from the start, showing, for one thing, that old age did not diminish Freud's courage. His last great work, indeed, has not finished asking difficult questions – to humankind, to psychoanalysis, and to each of us, if we accept to enter its complex structure and to ponder the exigency it exerts on our minds. The notion of 'historical truth,' for one, raises issues that lay at the center of our idea of civilization. The present book, edited by Lawrence Brown, offers us the helping hand of a series of excellent contributions from international authors who enlighten and question us in the Freudian spirit. It is a welcome companion in this adventure in thinking." - Dominique Scarfone, author, The Unpast: The Actual Unconscious
About the Editor(s)
Lawrence J. Brown is a graduate of the Boston Psychoanalytic Institute (BPSI) in both Child and Adult psychoanalysis. He is on the faculty of BPSI as well as the Massachusetts Institute for Psychoanalysis and also a Clinical Instructor in Psychiatry at Harvard Medical School. He has been on the North American Editorial Board of the International Journal of Psychoanalysis and is currently on the Editorial Board of Psychoanalytic Inquiry. He was also Co-chair of the Bion in Boston 2009 international conference.
You may also like