Obscenity, Psychoanalysis and Literature: Lawrence and Joyce on Trial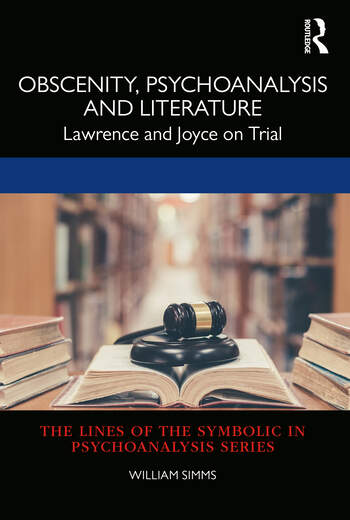 Book Details
Publisher : Routledge
Published : December 2021
Cover : Paperback
Pages : 170
Category :
Psychoanalysis
Catalogue No : 96155
ISBN 13 : 9781032064864
ISBN 10 : 9781032064
Obscenity, Psychoanalysis and Literature offers a fascinating psychoanalytic reading of four landmark obscenity trials involving the texts of D. H. Lawrence and James Joyce. By tracing the legal histories of Lawrence and Joyce, from censorship to their eventual redemption and transformation into champions of sexual freedom, the book draws a narrative of changing legal, literary and cultural investments.
The book examines the four trials of these authors in detail to show how the literary text can function as a symbol of both life and death and the political uses of figuring them as such. Taking a psychoanalytic perspective, we can see how this narrative of sexual repression to sexual liberation may itself be an emergent form of the superego imperative to enjoy and consume. Through close readings of trial transcripts and archival documents, this book helps elucidate the fantasies operating throughout the trials: the unquestioned assumptions of the nature of sexuality, gender, drugs and truth. It demonstrates with clarity how, through its attempt to suppress the sexual, the law confronts its own nature as language and in doing so troubles the distinctions between law, literature and desire that it usually wishes to protect.
Offering a uniquely psychoanalytic account of the obscenity trials of these authors, this text will be of great interest to scholars from across the fields of psychoanalysis, law and literature.
Reviews and Endorsements
"This bold and provocative new book draws on psychoanalysis to call into doubt many of the fundamental and common-sense assumptions about how censorship works and what it is for. William Simms contests standard accounts of these trials as straightforwardly repressive or enlightened. Instead, he shows how the outcome of the trials was much less important than the modes of desire and enjoyment that the trials articulated, and the mechanisms exercised by literary criticism and other discourses to regulate desire and enjoyment. Obscenity, Psychoanalysis and Literature is a work of great fluency and genuine invention." - Peter Buse, Dean of the School of the Arts at the University of Liverpool.
About the Author(s)
William Simms received the President's Doctoral Scholar Award from the University of Manchester, UK, where he completed his Ph.D. He is an interdisciplinary researcher, interrogating the intersections between literary, legal and psychoanalytic discourses.
You may also like