New Discoveries in Child Psychotherapy: Findings from Qualitative Research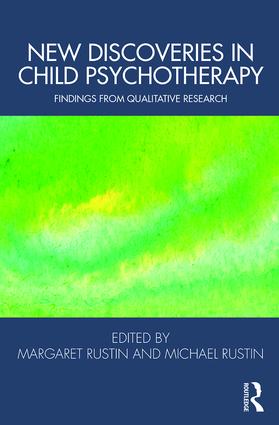 Book Details
Publisher : Routledge
Published : June 2019
Cover : Paperback
Pages : 350
Category :
Child and Adolescent Studies
Catalogue No : 94468
ISBN 13 : 9780367244101
ISBN 10 : 9780367244
Also by Margaret Rustin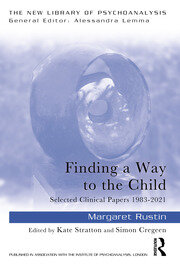 Also by Michael Rustin
New Discoveries in Child Psychotherapy presents eleven new findings in child psychoanalytic research, most of them based on the experience of the clinical consulting room. Each chapter is the work of an experienced child psychotherapist or child analyst, vivid in their description of the children and families they encountered. Their understanding of the "inner worlds" of patients and the clinical consulting room is clearly evidenced in their analysis of clinical presentations.
The chapters are the result of the psychoanalytic clinical and observational practices of their authors, allied to their use of rigorous qualitative research methods, in particular Grounded Theory and interpretative phenomenological analysis (IPA). They describe developments of child psychoanalytic knowledge in several fields, including autism, psychotherapy with severely deprived children, and the study of early infancy. They demonstrate advances in child psychoanalytic theories and methods and the development of new forms of clinical service provision. Contested issues in psychoanalytic research are thoroughly evaluated, showing how it can be made more accountable and rigorous through the adaptation of established qualitative research methods to the study of unconscious mental phenomena.
New Discoveries in Child Psychotherapy will be an essential text in the field of child psychoanalysis and will be highly useful in psychotherapy and psychoanalysis training courses and for psychoanalytic researchers, as well as for practitioners.
About the Editor(s)
Margaret Rustin is a consultant child and adolescent psychotherapist at the Tavistock Clinic, London, and an Associate of the British Psychoanalytical Society. She has pioneered and supported the extension of training in psychoanalytic observational approaches to training across the United Kingdom and in a number of other countries.
More titles by Margaret Rustin
Michael Rustin is Professor of Sociology at the University of East London, a Visiting Professor at the Tavistock Clinic, and an Associate of the British Psychoanalytical Society. He has written widely on psychoanalytic approaches to culture and society, including on children's fiction (Narratives of Love and Loss) and drama (Mirror to Nature) both with Margaret Rustin. He is also author of The Good Society and the Inner World, and is a co-author/editor of the current After NeoLiberalism: the Kilburn Manifesto.
You may also like