Countertransference in Psychoanalytic Psychotherapy with Children and Adolescents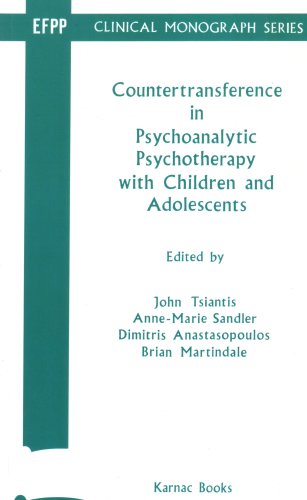 Also by Dimitris Anastasopoulos
Also by John Tsiantis
Also by Anne-Marie Sandler
This collection of papers from psychoanalysts across Europe is intended to highlight the similarites and differences between approaches to working with children and adolescents. Part of the EFPP Monograph Series.
Reviews and Endorsements
'The European Federation for Psychoanalytic Psychotherapy in the Public Health Service (EFPP) was founded in 1991 with a number of linked objectives. At their heart was and is a determination that knowledge and treatment skills stemming from psychoanalysis should become much more widely available and applicable to the general public with mental health problems who come for help from the "caring" professions.

'In its short history, the EFPP has already made a considerable impact. Many of its member countries have been considerably assisted by the training standards for practitioners to psychoanalytic psychotherapy that the EFPP aspires to. The EFPP is organized into three sections: for individual adult psychoanalytic therapy, for child and adolescent psychoanalytic psychotherapy, for group psychoanalytic psychotherapy. Recognition of these three vital focuses of applied psychoanalysis through structural representations in the EFPP has created a unique spirit of cooperation between the sections.

'So we start our monograph series with this compilation of contributions from authors from several different European countries on a theme that lies at the heart of child and adolescent psychoanalytic psychotherapy of children and adolescents.'
- Brian Martindale, Chairman EFPP

'The chapters in this monograph constitute a wide ranging investigation into the phenomena of countertransference as it appears in the psychoanalytic psychotherapy of children and adolescents. The authors tackle the subject by bringing both their knowledge of various theoretical perspectives and their clinical experience and by demonstrating the crucial importance of countertransference in a wide range of clinical conditions and treatment settings.

'This monograph is an addition to the previously modest literature available on countertransference in the psychoanalytic psychotherapy and psychoanalysis of children and adolescents. We hope it will prove useful to clinicians in the field and for the training and supervision of students in child and adolescent analysis and psychoanalytic psychotherapy.'
- John Tsiantis, Editor-in-Chief
About the Editor(s)
John Tsiantis is Professor of Child Psychotherapy, President of European Union of Medical Specialists Section of Child and Adolescent Psychiatry, previously Chief Editor of the EFPP Monographs book series, and President of the Hellenic Institute of Psychoanalytic Psychotherapy.
Dimitris Anastasopoulos M.D. is an Adult and Child Psychiatrist working in Athens. He trained in adolescent psychiatry and psychotherapy at the Tavistock Clinic, London, and is a training psychotherapist for adult and adolescent psychotherapists in Greece. He is a member of the Executive Committee of the Hellenic Association of Child and Adolescent Psychoanalytic Psychotherapy (HACAPP). He is vice-chairman of the EFPP.
More titles by Dimitris Anastasopoulos
Anne-Marie Sandler was born in Geneva where she studied psychology and worked with Jean Piaget. She came to England in 1950 and trained in child analysis with Anna Freud. She went on to train further at the Institute of Psychoanalysis where she became a Training and Supervising analyst for both children and adults, and a Distinguished Fellow. She is a former director of the Anna Freud Centre, former President of the Institute of Psychoanalysis and of the European Federation of Psychoanalysis and former Vice-President of the International Psychoanalytical Association.
More titles by Anne-Marie Sandler
Brian Martindale is a psychiatrist and psychoanalyst based in the UK. He is past Chair of the International Society for Psychological and Social Approaches to Psychosis (ISPS) and co-founder of the European Federation of Psychoanalytic Psychotherapy (EFPP).
You may also like