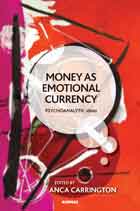 Book Details
Publisher : Routledge
Published : December 2014
Cover : Paperback
Pages : 176
Category :
Psychoanalysis
Category 2 :
Psychotherapy and Politics
Catalogue No : 36016
ISBN 13 : 9781782202004
ISBN 10 : 1782202005
The importance of money and our relationship to it is impossible to ignore in a decade defined by global economic crisis and financial instability. Integrating a psychoanalytic perspective with insights offered by economics, this book contributes to a debate that aims for a better understanding of money in its dual functioning – as omnipresent component of our external reality, as well as powerful agent of our emotional responses.
The main argument proposed is that the intense and complex emotional charge that money can engender stems from the role that money has not so much in the external world, but in an internal economy ruled by phantasy, where every external transaction has an internal counterpart, whose impact is mysterious, deep and far-reaching.
The book explores the impact of the emotional undercurrent stirred by money from its beginnings in childhood to its consolidation into adult life, for individuals and society alike, and with an emphasis on ordinary development, rather than on pathology. Bringing together Freud's seminal work with more recent applications of psychoanalytic thinking to financial markets, with Borges' prose and Lacanian insights, this book crosses discipline and school boundaries with the aim of making new insights possible
Reviews and Endorsements
'This collection has the merit of incorporating critiques of conventional economic wisdom, illustrations from literary fiction, and Freudian and Lacanian analyses. The width and depth of analysis is impressive. There are comprehensive linkages to childhood and individual development but we are also given substantial application to the wider world of financial markets. This is particularly welcome given the fragmentary treatment in general writings of the causes of the recent financial crisis. This should provide a valuable resource for practitioners, scholars in the field, and the generally interested for many years to come.'
— Samuel Cameron, Professor of Economics, University of Bradford

'Anca Carrington has pulled together a splendid team of contributors. Read this book if you want to understand the emotions money arouses – and how they impact on the way we spend it, hoard it, and make mistakes with it, on an individual and a global scale.'
— John Maloney, Associate Professor of Economics, University of Exeter

'No region of life today can be insulated from the desires, anxieties, and fantasies provoked by money. And yet there are few areas in which psychoanalytic discussion and ideas are more strikingly underdeveloped. With its lucid, theoretically expansive, and imaginative explorations of money through the lenses of Freud, object relations theory, Lacan, and even Borges, Anca Carrington's fine collection proves a valuable antidote to this gap in our literature.'
— Josh Cohen, psychoanalyst (BPAS) and Professor Modern Literary Theory, Goldsmiths University of London

'In times of austerity, we finally have a book that explains the emotional underside of money. This fascinating collection of essays explains both individual and collective fantasies about money. The analysis presented in this book should be essential reading to anyone who wants to understand why money can be both anxiety-provoking and exhilarating, plus a damaging element in one's personal life. For anyone working in financial services, this book should be required reading. Maybe a change in the way we are going might happen when people in finance understand the emotional underpinnings of their business.'
— Renata Salecl, senior researcher at the Institute of Criminology, Faculty of Law, University of Ljubljana, Slovenia; professor at Birkbeck College, University of London
About the Editor(s)
Anca Carrington is a psychotherapist who trained at the Tavistock Centre in London, after a career as an economist, both in academia and the civil service. She now works in the NHS and in private practice, and also makes time to paint and draw.
You may also like