Metaphorical Stories for Child Therapy: Of Magic and Miracles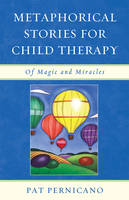 Also by Pat Pernicano
Therapeutic metaphor and stories have long been used within modalities such as hypnotherapy, play therapy, narrative therapies, and expressive therapies. Metaphorical interventions reduce client defensiveness. They provide an "aha" that leads to insight and change, as the client's identification with one or more characters in the stories springboards him or her into treatment activity.
Metaphorical Stories for Child Therapy: Of Magic and Miracles is a book for practitioners, including psychologists, social workers, special education or school therapists, counselors, and expressive therapists. The book uses metaphorical stories and interventions to address issues central to child and adolescent treatment. Each story addresses a particular issue or theme, gives examples of how the story may be used, and includes a set of "take-it-home" questions that may be assigned between sessions. These stories become core metaphors to be referred to throughout treatment, and children find them enjoyable and memorable.
There have been a number of books published in recent years on metaphor and therapeutic stories. This volume sets itself apart, in that the stories are richer character-wise and many are more universal in their themes. The book is divided into two sections: Part I focuses on general treatment themes, such as self-esteem, affect-regulation, lowering defenses, and so on. Part II addresses specific DSM-IV diagnoses such as panic disorder, ADHD, OCD, divorce adjustment, fear of the dark, and eating disorders. The depth and versatility of the stories ensure that the practitioner will find him or herself using them over and over again.
About the Author(s)
Pat Pernicano, PsyD, is a psychologist with South Texas Veterans Health Care System in San Antonio, where she specializes in the treatment of trauma and moral injury. She previously provided clinical and supervisory services at not-for-profit mental health agencies. Dr. Pernicano served as an associate adjunct professor and clinical faculty member in the Spalding University PsyD program from 1996 to 2015.
You may also like