Mentalizing in Arts Therapies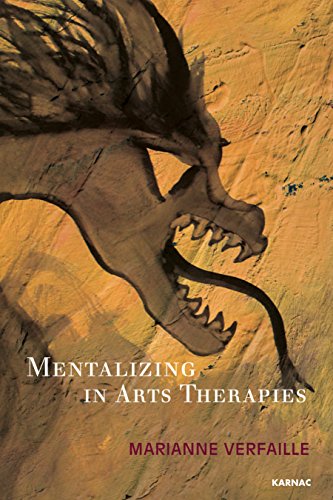 Book Details
Publisher : Routledge
Published : February 2016
Cover : Paperback
Pages : 256
Category :
Expressive Arts Therapies
Catalogue No : 35244
ISBN 13 : 9781782201335
ISBN 10 : 1782201335
This book describes the use of therapeutic art, music, and dance interventions against a background of mentalization, thus forging a link between arts therapies and mentalization-based treatment.
This book has its roots in the theory of Mentalization Based Treatment by Antony Bateman and Peter Fonagy, and combines the broad experience of many art therapists with art, music and dance/movement therapy in psychiatric settings in the treatment of adults and adolescents both individually and in groups, as well as children with disorganised attachment.
As a treatment concept, mentalization is quite straightforward because mentalizing is a typically human ability. As Bateman and Fonagy (2012) say: "Without mentalizing there can be no robust sense of self, no constructive social interaction, no mutuality in relationships, and no sense of personal security". On the other hand, it is not so simple to fully grasp the significance of mentalization. Mentalization-based therapy is a specific type of psychotherapy designed to help people reflect on their own thoughts and feelings and differentiate them from the perspectives of others.
This explicit verbal form of mentalization is preceded by an earlier, more fragile stage of implicit interactive affect regulation as the mind opens up to mentalization. Physically dealing with art mediums, movements or musical sounds is one way of representing this implicit self-regulation. It is an immediate way in which to evaluate thoughts and feelings on nonverbal sensorimotor, perceptual and symbolic levels. When clients work with nonverbal means such as art, movement or music in a way that focuses specifically on affect regulation and mentalization, it gives them an opportunity to grow mentally, even if they have a mild intellectual disability.
In this book, the author has attempted to tailor the description of mentalization to the work of arts therapists, and to make it more readily recognisable by her liberal use of image material.
Reviews and Endorsements
Read a review of this title in 'Art Therapy Online'
'Art therapy is arguably the most fertile area of application for mentalization based techniques. This book is the fi rst comprehensive introduction to this area and deserves to become a classic.'
- Peter Fonagy, Freud Memorial Professor of Psychoanalysis and Head of the Research Department of Clinical, Educational and Health Psychology, UCL; Chief Executive, Anna Freud Centre, London

'With a delightfully light touch, Marianne Verfaille deftly circumscribes the mentalization informed approach to arts therapy praxis she has developed with her colleagues. She vibrantly illustrates the art of mentalizing while bringing professional clarity and vigour to the arts therapies. The result is a joyful and compassionate testimony to the significance and efficacy of the arts therapies with contemporary clinical populations.'
- Ruth E. Jones, psychotherapist, author of Foreshoring the Unconscious: Living Psychoanalytic Practice and co-editor of Psychodynamic Art Therapy Practice with People on the Autistic Spectrum

'Marianne Verfaille and colleagues have written a book that will appeal to all expressive therapists. Every major theoretical point comes alive through detailed clinical examples illustrated by rich images, all of which will help expressive arts therapists fully integrate the process of mentalization.'
- Lisa D. Hinz, PhD, ATR clinical psychologist and art therapist, author of Drawing from Within: Using Art to Treat Eating Disorders, and Expressive Therapies Continuum: A Framework for Using Art in Therapy
About the Author(s)
Marianne Verfaille started her career working with children with attachment problems. For the past twenty years she has been senior art therapist at De Wende, a psychotherapeutic day treatment centre for people with personality disorders in Eindhoven, in the southern Netherlands. She has been a driving force behind the movement to integrate mentalizing into arts therapies since 2004. Marianne developed the professional course on mentalizing in arts therapies which ultimately led to her book, Mentalizing in Arts Therapies. She also has her own practice, "Marianne Verf", offering further training and refresher courses for arts therapists. She lectures at RINO, the Regional Institute for Further Training in Amsterdam and is a registered supervisor and registered MBT-specialised therapist. Marianne has a number of publications to her name.
You may also like