Make Room for Baby: Perinatal Child-Parent Psychotherapy to Repair Trauma and Promote Attachment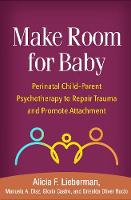 Also by Alicia F. Lieberman
Also by Manuela A. Diaz
Hardback
£29.99
Usually despatched within 4-5 working days
Free UK Delivery over £25
This title has been delisted and is no longer available to purchase
This state-of-the-art clinician's guide describes Perinatal Child-Parent Psychotherapy (P-CPP), a treatment for pregnant women and their partners whose readiness to nurture a baby is compromised by traumatic stress and adverse life experiences.
Reviews and Endorsements
"Actively helping mothers to raise healthy kids has been shown to be the single most effective mental health intervention there is. Lieberman and her colleagues have decades of clinical experience, and extensive clinical research studies show the effectiveness of P-CPP, which focuses on mitigating how parents' own trauma histories get in the way of effective parenting. This highly efficacious approach, which includes identifying traumatic experiences and a supportive approach to 'speaking the unspeakable,' has been scientifically shown to improve parent-child relationships and to promote safety and hope. A 'must read' for all of us working with traumatized children and families." - Bessel A. van der Kolk, MD, President, Trauma Research Foundation; Department of Psychiatry, Boston University School of Medicine.

"An extraordinary and groundbreaking book. Grounded in Lieberman's enormously influential CPP model, P-CPP addresses a period in the life of a family that is often overlooked by scholars and practitioners. In this tour de force, Lieberman and her colleagues offer a detailed, nuanced, and accessible view of the perinatal period. The book provides a culturally sensitive, trauma-informed framework for clinical intervention with infants and parents during their earliest days as a family. Beautifully written, clinically rich, and highly practical, this book is a gift!" - Arietta Slade, PhD, Yale Child Study Center, Yale University School of Medicine.

"This book describes an exciting, innovative application of CPP during the perinatal period. The rich clinical examples, detailed explanations, and cultural wisdom throughout the book will allow clinicians to understand the complexities--as well as the enormous benefits--of applying this evidence-based trauma treatment during pregnancy and the first year of life. This book is a gem for infant mental health clinicians." - Judith A. Cohen, MD, Professor of Psychiatry, Allegheny Health Network, Drexel University College of Medicine.

"Poignant and powerful--often breathtaking. Cases vividly portray the impact of current, past, and historical trauma on parents' developing relationships with their infants, and demonstrate how sensitive, skillful psychotherapy can facilitate internal and external changes for new parents. Destined to be a classic, this book offers a compelling presentation of the 'why,' 'what,' and 'how' of therapy during the perinatal period--and what it takes to do it well. It is essential reading for all therapists who work with parents in this critical period and will be of interest to everyone concerned about the impact of early experience on the developing child." - Paula Doyle Zeanah, PhD, MSN, RN, Professor and Lafayette General Medical Center/Our Lady of Lourdes Endowed Chair in Nursing, University of Louisiana at Lafayette; Director of Research, Cecil Picard Center for Child Development.
About the Author(s)
Alicia F. Lieberman, PhD, is Irving B. Harris Endowed Chair in Infant Mental Health and Professor and Vice Chair for Faculty Development in the Department of Psychiatry at the University of California, San Francisco (UCSF). She is Director of the UCSF Child Trauma Research Program at Zuckerberg San Francisco General Hospital (ZSFGH) and Director of the Early Trauma Treatment Network. Dr. Lieberman is the senior developer of Child-Parent Psychotherapy (CPP). She is the author of The Emotional Life of the Toddler, for general readers, as well as professional books, articles, and chapters on childhood exposure to violence, mental health in infancy and early childhood, child-parent attachment, and cultural competence in intervention. Dr. Lieberman has received awards including, most recently, the Rene Spitz Award from the World Association for Infant Mental Health, the Hero Award from the San Francisco Department of Public Health, the Whole Child Award from the Simms/Mann Institute, the Blanche Ittleson Award from the Global Alliance for Behavioral Health and Social Justice, and the Paulina Kernberg Award from Weill Cornell Medicine.
More titles by Alicia F. Lieberman
Manuela A. Diaz, PhD, is a clinical psychologist in private practice in Berkeley, California, where she specializes in maternal and infant mental health and the application of mindfulness and neuroscience to the treatment of mood disorders and trauma. Dr. Diaz is an affiliated clinician at the University of California, San Francisco (UCSF), Child Trauma Research Program at Zuckerberg San Francisco General Hospital. Since the early 2000s, she has conducted clinical work and research in the area of perinatal mental health. She is a coauthor of the Mothers and Babies course, a maternal depression prevention program developed at UCSF, and a codeveloper of Perinatal Child-Parent Psychotherapy. Dr. Diaz has served as a trainer both nationally and internationally, in English and Spanish, and has published on reducing mental health disparities for racial and ethnic minority groups.
More titles by Manuela A. Diaz
Gloria Castro, PsyD, a clinical psychologist and Certified Sexual Assault Counselor, is a bilingual psychotherapist at the University of California, San Francisco, Child Trauma Research Program at Zuckerberg San Francisco General Hospital. In this role, she implements Perinatal Child-Parent Psychotherapy throughout pregnancy, labor, delivery, and postpartum with women with histories of traumatic experiences. She also provides infant mental health services in the neonatal intensive care unit and the high-risk pediatric Kempe Clinic. Dr. Castro's interests include the impact of immigration on family systems, the intergenerational transmission of trauma, and the impact of trauma on children's development. She has consulted for, supervised, and trained mental health providers who work with immigrant families and their children, and has presented her work nationally and internationally.
Griselda Oliver Bucio specializes in the treatment of young children exposed to trauma and of pregnant women exposed to domestic violence and other traumatic events. She has served as a Child-Parent Psychotherapy (CPP) trainer and consultant since 2010, leading trainings and presentations nationally and internationally in both English and Spanish. Her major interests include infant mental health, the impact of early trauma within the dyadic relationship and pregnancy, disorders of attachment, the effects of paternal absence, the process of immigration in Latino families, and the dissemination of CPP and Perinatal Child-Parent Psychotherapy (P-CPP).
You may also like