Psychotherapy with Infants and Young Children: Repairing the Effects of Stress and Trauma on Early Attachment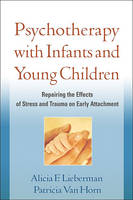 This eloquent book presents an empirically supported treatment that engages parents as the most powerful agents of their young children's healthy development. Child--parent psychotherapy promotes the child's emotional health and builds the parent's capacity to nurture and protect, particularly when stress and trauma have disrupted the quality of the parent--child relationship. The book provides a comprehensive theoretical framework together with practical strategies for combining play, developmental guidance, trauma-focused interventions, and concrete assistance with problems of living. Filled with evocative, "how-to-do-it" examples, it is grounded in extensive clinical experience and important research on early development, attachment, neurobiology, and trauma. This book will be invaluable to practitioners working with infants and young children and their caregivers, including clinical psychologists, psychiatrists, social workers, and counselors. It may also serve as a supplemental text in graduate-level courses.
About the Author(s)
Alicia F. Lieberman, PhD, is Irving B. Harris Endowed Chair in Infant Mental Health and Professor and Vice Chair for Faculty Development in the Department of Psychiatry at the University of California, San Francisco (UCSF). She is Director of the UCSF Child Trauma Research Program at Zuckerberg San Francisco General Hospital (ZSFGH) and Director of the Early Trauma Treatment Network. Dr. Lieberman is the senior developer of Child-Parent Psychotherapy (CPP). She is the author of The Emotional Life of the Toddler, for general readers, as well as professional books, articles, and chapters on childhood exposure to violence, mental health in infancy and early childhood, child-parent attachment, and cultural competence in intervention. Dr. Lieberman has received awards including, most recently, the Rene Spitz Award from the World Association for Infant Mental Health, the Hero Award from the San Francisco Department of Public Health, the Whole Child Award from the Simms/Mann Institute, the Blanche Ittleson Award from the Global Alliance for Behavioral Health and Social Justice, and the Paulina Kernberg Award from Weill Cornell Medicine.
You may also like