Lover, Exorcist, Critic: Understanding Depth Psychotherapy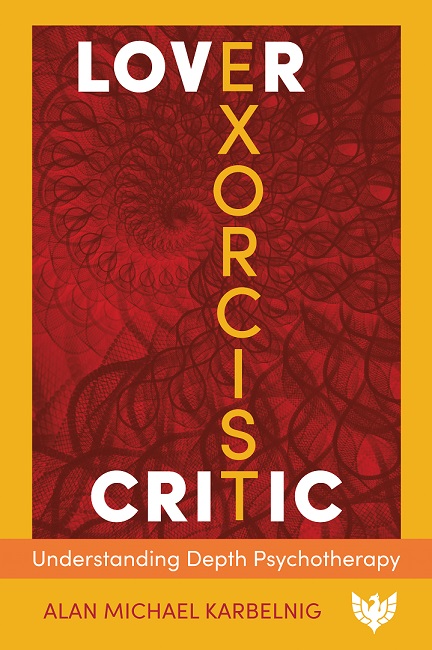 Book Details
Publisher : Karnac Books
Published : September 2023
Cover : Paperback
Pages : 288
Category :
Individual Psychotherapy
Catalogue No : 97101
ISBN 13 : 9781800131965
ISBN 10 : 9781800131
Since the introduction of psychoanalysis, radical paradigm shifts have occurred in philosophy, science, mathematics, and the arts. How we exchange information, how we interact on the global stage, and how we conceive of ourselves as citizens have also evolved.
And yet, depth psychotherapy remains locked within its nineteenth-century image, poorly understood by those not intimately involved in its processes. Lover, Exorcist, Critic dives deeply into the field's history, examining the cultural and historical context from which it emerged, and explaining how it evolved into a more vitalising methodology. Alan Michael Karbelnig exposes the inner workings of depth psychotherapy using the innovative perspective of three distinct social role analogies. As Lovers, psychoanalysts create a warm, accepting environment; as Exorcists, they receive, process, and deliver back projections; and, as Critics, they analyse, confront, and educate patients about self- and other-destructive patterns.
These methods come to life in the rich descriptions of how psychoanalytic processes progressed with three fictional patients. Carlos, who suffered neglect and abuse during his childhood in East Los Angeles, struggled with the emotional intensity of depth psychotherapy and took months-long breaks when he felt too vulnerable. Gilda, a Greek-American woman sexually abused in her adolescence and traumatised by a physical attack in adulthood, grappled with periods of suicidal depression and episodic psychogenic fugue states. These severe symptoms made the psychotherapy process, at various times, difficult to contain. The final patient, Penn, an orthopaedic surgeon struggling with anxiety and over-achievement which left him exhausted, demonstrates the benefit gained by a person undergoing depth psychotherapy, intermittently, for more than two decades. Bravely exploring the failures alongside the successes, Dr. Karbelnig demonstrates the myriad ways psychoanalytic processes unfold and why they remain an effective, even vibrant way to reduce pain, grow, and live a more authentic life.
Reviews and Endorsements
Dr. Karbelnig's book is well researched, yet easy to read – both broad and deep. He makes "old" ideas vulnerable, compelling, and strangely relevant to today's society, culture, and its thinking people. It's a warning that puts us on notice of the subtle deleterious effects of 21st century "innovation" and of an entrenched lack of true and deep self-awareness. But then he provides a discipline and practice that frees us up and opens us up, lowering self-deception and raising self-awareness with the possibility of true transformation. He (re)introduces and explains in detail depth psychology. Depth therapy is an ongoing profound encounter that is not just for symptom relief; but for liberty and freedom. And its cumulative effect duly incorporated in modern culture and leadership–along with related practices that raise awareness and compassion–just might be something that makes a significant contribution to healing our dysfunctional country and perhaps touches the world itself. I highly recommend the careful reading of Dr. Karbelnig's gift.
Sam Alibrando, PhD, clinical psychologist and organizational consultant, author of Follow the Yellow Brick Road and The Three Dimensions of Emotion: Finding the Balance of Power, Heart, and Mindfulness

Lover, Exorcist, and Critic: Understanding Depth Psychotherapy reads like a long, entertaining, and enlightening essay in which Dr. Karbelnig puts his stamp on what thought leaders in the field of depth psychotherapy have to say about how it reduces human suffering. The rich case studies he provides, as well as candid self-disclosures, ensure that the complicated ideas he covers are accessible and hit their mark. The book's message is immensely important: depth psychotherapy is a cherished cultural resource to help individuals truly think, act, and feel like individuals, and Dr. Karbelnig delivers that message resoundingly well.
Enrico Gnaulati, PhD, affiliate professor of psychology at Seattle University, author of Saving Talk Therapy: How Health Insurers, Big Pharma, and Slanted Science are Ruining Good Mental Health Care

Dr. Karbelnig does a masterful job of elucidating unconscious themes, which he terms "internal dramas," and exploring how these hidden conflicts and dynamics influence our present-day functioning. Utilizing jargon-free and accessible language, he pulls back the curtain on the often-misunderstood and mysterious process of psychoanalysis, offering a new model of understanding psychoanalysis that differs from the stereotypical silent pipe-smoking analyst. We see how psychoanalysts function in three primary ways in relation to patients–the eponymous lover, exorcist, and critic. This book offers compelling studies of the contemporary depth psychotherapy process, revealing how the past haunts our present-day lives. We see how depth psychotherapy is akin to time traveling, visiting the past to understand the present in a new way, and making internal dramas available to be rewritten. In this deeply thoughtful, personal, and vulnerable volume, Dr. Karbelnig shows how psychoanalysis liberates us from our past and creates a new roadmap to freedom, offering hope for living a fully vibrant, authentic, and meaningful life.
Nina Savelle-Rocklin, PsyD, psychoanalyst and co-editor of Food for Thought: Perspectives on Eating Disorders, The Binge Cure, and Beyond the Primal Addiction

Alan Karbelnig's book accomplishes what most volumes rarely do– that is to be just as congenial to an educated lay audience as it is to psychoanalysts at any point in their career. His authorial style covers, in his many voices, pretty much the entire history of psychoanalysis. He discusses it in its many iterations, including its primary leaders of prominent theories, along with their key followers, while providing a front row seat to the evolution of their arguments. This is critically important to understanding how psychoanalysis' promise of "subversion" and of "freedom" would so often be undermined by its internal, intellectual "politics." Karbelnig conveys this in a deeply personal and self-disclosing manner, illustrating his points with three "fellow travelers." Calling these fictional patients "Carlos," "Gilda," and "Penn," he captures the inexorable struggles involved in the depth psychotherapy of psychoanalysis, which parallels the struggles between its many theories. This volume will doubtlessly find homes on the bookshelves of psychoanalysts and its lay fans alike. Dr. Karbelnig's sage and inviting chapter-by-chapter conversations turn this book into a remarkable page-turner of a read.
Phillip Ringstrom, PsyD, PhD, training and supervising psychoanalyst at the Institute of Contemporary Psychoanalysis (ICP) and author of A Relational Psychoanalytic Approach to Couples Psychotherapy

This is a brilliant book! It should be mandatory reading for any therapist in training and a beacon of wisdom senior practitioners will aspire towards. Through an inner prism in the intimate work with three ongoing case studies, we are afforded a rare glimpse into the minds and agonies of both patient and analyst. Written in clear and elegant prose, Dr. Karbelnig provides us with a real gem showcasing the pains, pitfalls, and ecstasies of what makes the talking cure so courageous and life-altering.
Jon Mills, professor in psychosocial and psychoanalytic studies at the University of Essex and author of Psyche, Culture, World, Debating Relational Psychoanalysis and Inventing God: Psychology of Belief and the Rise of Secular Spirituality
Table of Contents

Acknowledgements
Preface

CHAPTER 1
A polemical introduction

CHAPTER 2
The time travelers

CHAPTER 3
Psychoanalysis' philosophical context

CHAPTER 4
The evolution of psychoanalytic theory

CHAPTER 5
Creating the transformational frame

CHAPTER 6
The Lover

CHAPTER 7
The Exorcist

CHAPTER 8
The Critic

CHAPTER 9
Concluding unscientific postscript
About the Author(s)
Alan Michael Karbelnig, PhD, a training and supervising psychoanalyst, provides psychoanalytically oriented individual and couples psychotherapy in Pasadena, California. Board certified in forensic psychology, he also offers psycho-legal services in the realms of administrative and employment law. He earned doctorates in Counseling Psychology from the University of Southern California (USC) and in Psychoanalysis from the New Center for Psychoanalysis (NCP). He founded Rose City Center (RCC)—a not-for-profit psychoanalytic clinic serving economically disadvantaged individuals throughout California. Dr. Karbelnig writes extensively, and he also lectures locally, nationally and internationally including, most recently, in Beijing, Shanghai, Shenzen, and Hong Kong, China, in Delhi and Ahmedabad, India, and in Tel Aviv, Israel.
You may also like