Love and Death in Psychotherapy

Book Details
Publisher : Palgrave
Published : January 2006
Cover : Paperback
Category :
Individual Psychotherapy
Catalogue No : 21746
ISBN 13 : 9781403936028
ISBN 10 : 1403936021
Also by Robert Langs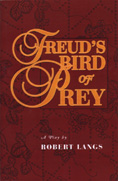 While this book was written for all manner of mental health professionals, it also is of great importance to the general reader. The foucs is on a new way of understanding the human mind and the emotional issues with which it is faced. It shows that rather than love, death and the three forms of death anxiety it evokes--existential, predatory, and predator--is the basic challenge in human life and its psychotherapy. The book also shows how to distinguish true from false love, be it in a psychotherapy patient or therapist or in everyday life. The book truly revolutionizes our undserstanding of ourselves and changes our view of psychoanalysis as it endeavors to comprehend emotional life. It also is replete with the discovery of new archaetypes and universals in the emotion-processing mind. There is much here that is new and startling, and eminently useful.
Reviews and Endorsements
Contents
Introduction
Taking the Measure of Love
The Strong and Weak Adaptive Approaches
Patient-Love: The Literature
Two Approaches to Patient-Love
Therapist-love: The Literature
Love is the Puppet, Death the Puppeteer
Patients' Loving and Wishing to be Loved
Love and the Psychotherapist
The Search for True Love
About the Author(s)
Robert Langs, M.D., is well known as the author of many books on the subject of psychoanalytic psychotherapy, including The Technique of Psychoanalytic Psychotherapy (2 volumes), Psychotherapy: A Basic Text , A Primer of Psychotherapy and Decoding Your Dreams. He is currently Executive Director at the Program for Psychoanalytic Psychotherapy at the Beth Israel Medical Center, New York; Clinical Professor with the Department of Psychiatry, Mt. Sinai Hospital and School of Medicine, New York; and Visiting Clinical Investigator at the Nathan S. Kline Institute for Psychiatric Research, New York.
You may also like