Lacunae: APPI International Journal for Lacanian Psychoanalysis: Issue 13

Also by Eve Watson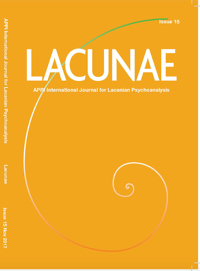 Contents:
Marlene ffrench Mullen - 1916 Diary Extracts
Marlene ffrench Mullen - The Bubbling Has Not Yet Subsided: An Introduction to the Diaries of Marlene ffrench Mullen and the Rising of the People, 1916
Rodolfe Adam - What it Means "To Mourn"?
Hilda Fernandez - Narci-Capitalism
Rob Weatherill - The Right Turn, Part Two
Dan Collins - The Drive: Pathogenic and Curative
Sarah Meehan O'Callaghan - Bending the Phallus: Considerations of Desire via Seminar V and Beyond
Sheila Power - Book Review: Lacan on Love by Bruce Fink
About the Editor(s)
Eve Watson works in Dublin as a psychoanalytic practitioner, clinical supervisor and academic. She is involved in teaching and training in psychoanalysis, psychotherapy and teacher education. She writes on psychoanalysis, sexuality studies, critical psychology, poetics, film and critical theory.
You may also like