Invisible Trauma: Women, Difference and the Criminal Justice System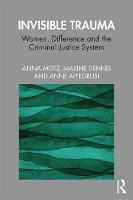 Book Details
Publisher : Routledge
Published : March 2020
Cover : Paperback
Pages : 232
Category :
Trauma and Violence
Category 2 :
Forensic
Catalogue No : 94923
ISBN 13 : 9781138218666
ISBN 10 : 1138218669
Also by Anna Motz
Also by Anne Aiyegbusi
Also by Maxine Dennis
There is an expectation that women will be nurturers and carers. Women who have been judged violent, destructive and criminal and who are detained in the criminal justice system can find themselves perceived through a distorted lens as unwomanly. This book explains how they become hypervisible in their difference while the histories of trauma and suffering that are communicated through their offending and other risk behaviour remain hidden and so are unseen.
Bringing together authors uniquely placed as experts in their fields, this book argues that it is essential to trace the traumatic roots of women's violence and offending. Powerful intergenerational factors perpetuate the cycles of offending and trauma re-enactment that current sentencing practice overlooks. The authors of this book present a psychoanalytically informed account of the development of violence and other offending, identifying pathways for change to address trauma within the lives of these women and their children, and also to create a responsive, effective and sensitive workforce.
Invisible Trauma highlights the role of emotional, social and cultural forces in traumatizing women who come into contact with the criminal justice system and uncovers areas of their lives that are all too often hidden from view. It will be invaluable to those working in clinical and forensic psychology, mental health nursing, psychotherapy, social work, medical practice and women's health, as well as frontline practitioners in the criminal justice system, the health service and third sector organizations and for anyone with an interest in racism, equality and social justice.
About the Author(s)
Anna Motz is a Consultant Clinical and Forensic Psychologist with the Central and North West London NHS Foundation Trust working within Offender Care and a Psychoanalytic Psychotherapist with extensive experience of working with women with trauma and offending histories. She is the author of The Psychology of Female Violence: Crimes Against the Body and Toxic Couples: The Psychology of Domestic Violence, and the Editor of Managing Self Harm: Psychological Perspectives.
Maxine Dennis is a Consultant Clinical Psychologist and Psychoanalyst (British Psychoanalytic Society) and is Groups Lead in the Adult Department, Tavistock and Portman NHS Foundation Trust. She is also a Visiting Lecturer at the University of Essex Clinical Psychology Department where she organises and contributes to the teaching on diversity and psychotherapy. Currently she is Chair of the British Psychoanalytic Council Task Group on Ethnicity, Culture and Racism.
Anne Aiyegbusi is a Mental Health Nurse, Forensic Psychotherapist and Group Analyst. She manages a clinical network for personality disorder at West London NHS Trust and is a Director of Psychological Approaches CIC. Anne has extensive experience of working with women who have histories of self-harm, trauma and offending; and of working with racism in forensic and psychotherapeutic contexts. Anne is a member of the Board of Trustees at the Institute of Group Analysis where she is also a member of the Diversity in Training Group, prioritising issues of 'Power, Privilege and Position'.
You may also like