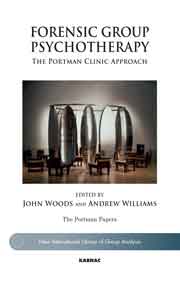 Book Details
Publisher : Routledge
Published : February 2014
Cover : Paperback
Pages : 240
Category :
Forensic
Category 2 :
Group Psychotherapy
Catalogue No : 32417
ISBN 13 : 9781780490496
ISBN 10 : 1780490496
Also by John Woods
Also by Andrew Williams
Forensic Group Psychotherapy: The Portman Clinic Approach stands as a comprehensive account of theoretical and practical approaches to the group treatment of patients who present with problematic sexual behaviour, criminality, and violence. The first section of the book focuses upon key aspects of group analytic theory as applied to clinical work with forensic patients and describes how to provide a setting in which treatment can proceed. This is followed by a series of chapters with a clinical emphasis, providing a rich and evocative account of the challenges of working with forensic patients in groups. The guiding principle is the need to understand and work with the victim within the perpetrator. This book is a must for any clinician working with forensic patients in groups. Though based on the work of an outpatient clinic, there are ideas and techniques that can be applied to many other settings, including prison, probation, and inpatient.
Reviews and Endorsements
'I was fortunate to meet both Estela Welldon and John Woods early in my forensic training and the Portman "principles" of group therapy I learnt from them proved to be invaluable to me as a group therapist working with offenders, both in terms of technical rigour and a compassionate framework to support meaningful change. Now those principles have been described and discussed in detail in this rich and thoughtful book. Chapters by different authors describe different types of group; what is especially strong is the clinical detail and description of real group processes and difficulties. What I took away from all the chapters is the dedication of the therapists, their knowledge and experience, and the priceless value of having a service that takes seriously the minds of people with serious psychopathology who are often shunned by others. Group therapists who work with offenders (especially those who usually use cognitive techniques) will find this a valuable addition to their libraries.'
— Dr Gwen Adshead, MBBS, MA, FRCPsych, consultant forensic medical psychotherapist, Broadmoor Hospital

'In an era when forensic psychotherapy is questioned by many, the Portman Clinic has courageously taken on the challenge of treating those who are largely marginalised by contemporary society. In this superb new volume, John Woods and Andrew Williams have collected a group of contributions that describe in detail the remarkable work that is conducted at the Portman Clinic. Readers will emerge from this book convinced of the unique value of group psychotherapy with this population. They may also find themselves filled with hope for a population that many regard as hopeless.'
— Glen O. Gabbard, MD, author of Love and Hate in the Analytic Setting

'This is an extraordinarily timely and insightful book that will appeal to all therapists and criminologists in the sex offender field and beyond. Using a modified psychodynamic group therapy approach, the book is a tribute to the courage of all the therapists at the Portman and serves as a legacy for Estella Weldon. Bravo!'
— Leslie M. Lothstein, PhD, ABPP, Clinical Forensic Psychologist, Department of Psychiatry, Yale University and Associate Professor of Psychiatry, Case Western Reserve University, USA
About the Editor(s)
John Woods is a Member of the British Psychotherapy Foundation and the Institute of Group Analysis, a Consultant Psychotherapist at the Portman Clinic, and works with adults and children who have shown harmful sexual behaviour. He is the author of Boys Who Have Abused: Psychoanalytic Psychotherapy with Victims/Perpetrators of Sexual Abuse (Jessica Kingsley Publishers), and has also written articles on various clinical topics, dramatic monologues, and full-length plays dealing with psychotherapeutic engagement with trauma and abuse. He has recently written about the harmful effects of unregulated internet pornography.
Andrew Williams is Consultant Psychiatrist in Forensic Psychotherapy at the Portman Clinic, previously at the Maudsley Hospital, Broadmoor Hospital and the Bracton Centre Medium Secure Unit. He offers teaching and consultation to probation services, forensic units, and custodial settings. He is involved in developing a specialist service for persons with antisocial personality disorder using mentalization-based treatment. He is currently training at the Institute of Psychoanalysis.
You may also like