Unexpected Gains: Psychotherapy with People with Learning Disabilities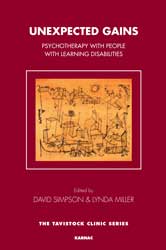 Book Details
Publisher : Routledge
Published : 2004
Cover : Paperback
Pages : 240
Category :
Individual Psychotherapy
Catalogue No : 18420
ISBN 13 : 9781855759640
ISBN 10 : 1855759640
Also by David Simpson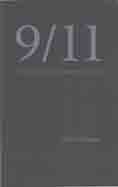 Psychoanalytic psychotherapy is a new development in the treatment of people with learning disabilities and mental health problems, which traditionally has utilised behavioural management and limited counselling. The papers collected here have evolved from the work of the pioneering Learning Disabilities Service at the Tavistock Clinic, London, which is made up from specialised professionals from the fields of psychology, psychiatry, child and adolescent psychotherapy, adult psychotherapy and social work. The service mainly offers individual psychotherapy but also provides group work, parent work, family therapy and consultative work with professionals where necessary.
This volume demonstrates the vast range of work undertaken by members of the service, covering treatment for children, adolescents and adults from the fields detailed above. It also contains an in-depth look at aspects of life in residential settings and at audit and research. Several central concepts reoccur: the theory of early trauma; the theory of "secondary handicap", a term coined by Valerie Sinason to describe the particular use a person makes of their handicap; and the sheer painfulness of having a learning disability to all concerned and the magnitude of defensive manoeuvres used by people to evade this reality.
A major and worthwhile aim of the editors is to encourage an interest in training in psychotherapy with this patient group, an overlooked but rewarding field. This book will appeal to many for a variety of reasons. It is pertinent for those from any field who are already engaged in work with people with learning difficulties and will also be of interest not only to general practitioners and students of psychotherapy but also to non-specialists who are connected with the issues raised, such as carers, keyworkers, family members and friends.
In this book, psychoanalytic psychotherapy with children, adolescents and adults with learning disabilities is described in detail, with discussion about some of the technical issues which can arise in clinical work with this patient group. The book aims to be accessible to a wide range of readers, and includes chapters on group therapy in an educational setting, on research and on aspects of institutional care. It will be pertinent and useful to all practitioners and trainees in the fields of learning disabilities, child and adolescent mental health, including psychiatrists, psychologists, social workers, and psychotherapists.
Contributors:
Annie Baikie; Marta Cioeta; Louise Emanuel; Lydia Hartland-Rowe; Sally Hodges; Maria Kakogianni; Pauline Lee; Victoria Mattison; Lynda Miller; Sadegh Nashat; Nancy Pistrang; Elisa Reyes-Simpson; Nancy Sheppard; David Simpson; and Judith Usiskin.
About the Editor(s)
David Simpson is joint Head of the Tavistock Clinic Learning Disabilities Service. Following a background in paediatrics, he trained in psychiatry at the Maudsley Hospital. He is a Consultant Child and Adolescent Psychiatrist and Programme Director for Specialist Training in Child and Adolescent Psychiatry at the Tavistock Clnic, and is Honorary Senior Lecturer at the Royal Free and University College London Hospital Medical School. He is a Member of the British Psychoanalytic Society and works in private practice as a psychoanalyst.
Lynda Miller is joint Head of the Tavistock Clinic Learning Disabilities Service and Consultant Child and Adolescent Psychotherapist in the Adolescent Department of the Tavistock Clinic. She also works as Principle Child and Adolescent psychotherapist in the Child Guidance Service in Enfield. She teaches on pre-clinical and clinical training courses at the Tavistock and in Bologna, Italy, and has published papers in the United Kingdom and in Italy.
You may also like