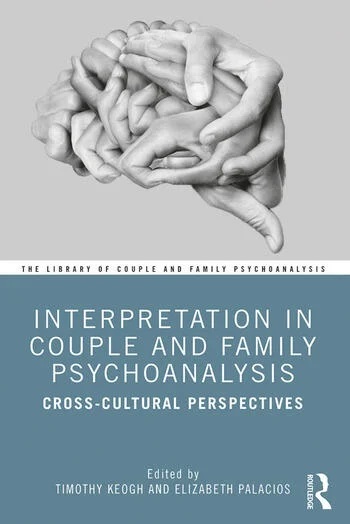 Book Details
Publisher : Routledge
Published : June 2019
Cover : Paperback
Pages : 280
Category :
Family, Couple and Systemic Therapy
Catalogue No : 94355
ISBN 13 : 9780367220068
ISBN 10 : 0367220067
Also by Timothy Keogh
Also by Elizabeth Palacios
This collection of contemporary clinically-oriented papers covers a range of theoretical approaches to the fundamentally important technical issue of interpretation. It offers thought-provoking, cross-cultural clinical perspectives about interpretation with illustrations from cutting edge clinical practice with couples and families.
Divided into three parts, the first section of the book examines interpretation within the broader field of psychoanalysis, and notes how it has been applied to couple and family psychoanalysis. Part 2 considers the current use of interpretation with couples, including how it informs assessment, while Part 3 focuses on its application with families and considers a broad range of key topics, including the nature of family, social and intergenerational links, the arrival of a new-born, same sex couples' families, bereavement in a family, and families with adolescent children. Each chapter is followed by a lively discussion piece.
Interpretation in Couple and Family Psychoanalysis: Cross-Cultural Perspectives represents a major contribution to the field of couple and family psychoanalysis. It reflects the fruits of an unparalleled era of global collaboration and resultant re-shaping of approaches to clinical practice with couples and families. Mental health professionals dealing with couples and families will find it to have immediate relevance to their clinical work, either in their institutional or private practice.
About the Editor(s)
Timothy Keogh currently works full time as a psychoanalyst and forensic and clinical psychologist in private practice in Sydney, Australia. He is a research fellow of the International Psychoanalytical Society and associate faculty member of the Centre for Behavioral Sciences in Medicine at the University of Sydney. Dr. Keogh was formerly statewide Director of Inmate Services and Programs with the New South Wales Department of Corrective Services (Australia). Prior to this he held the post of Director of the Collaborative Research Unit within the New South Wales Department of Juvenile Justice, where he was also Director of Psychological Services. He has published and co-authored numerous journal articles, monographs and chapters on juvenile offending, sex offending, adolescent mental health and psychotherapy. He is currently President of the Couples and Family Psychotherapy Association of Australasia and National Convener of the Australasian Psychological Society's Psychoanalytically-Oriented Psychologist Interest Group.
Elizabeth Palacios, MD, is a psychiatrist, adult and child psychoanalyst, and a member of the Child and Adolescent Department in APM (The Psychoanalytic Association of Madrid). She trained in Argentina and Spain in Madrid's Psychoanalytical Association, and is a member of the IPA's Committee on Family and Couple Psychoanalysis. She is also the founder, president, professor, and supervising analyst in Aragon's Society for the Research of Child and Adolescent Psychic Life, and a member of the Spanish Federation of Associations of Psychotherapists. She has published several books and papers on child and adolescent psychoanalysis, and is currently in private practice in Zaragoza, Spain.
You may also like