Infant Observation at the Heart of Training

Book Details
Publisher : Routledge
Published : 2005
Cover : Paperback
Pages : 282
Category :
Child and Adolescent Studies
Catalogue No : 20569
ISBN 13 : 9781855753600
ISBN 10 : 185575360X
Also by Janine Sternberg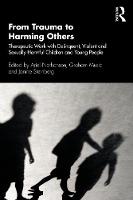 The study of infant observation is widely used as part of training to become a psychoanalytic psychotherapist; the skills learned through infant observation can be widely applied to practicing analysis with all ages. Through the delineation of the views of writers and teachers of infant observation and her own empirical research, Janine Sternberg addresses the reasons why infant observation is a vital part of training for all analysts.
Reviews and Endorsements
'This beautiful piece of research not only finds ample justification for the value of infant observation as part of clinical training, but also teaches us many lessons about the education of psychotherapists, and about how we may conduct elegant research in this sometimes apparently nebulous field. Sternberg's excellent book easily achieves its ambitious goal of placing infant observation once again at the centre of psychotherapeutic training. All those involved in the training of therapists should read this book, but also those who need a good role model for sensitive yet systematic research methodology in this challenging field.'
- Professor Peter Fonagy, Freud Memorial Professor of Psychoanalysis, University College London; Chief Executive, The Anna Freud Centre

'Sternberg's well-researched book is quietly passionate about the value of infant observation in psychotherapeutic trainings. Chapter headings such as "Feel the Music" give a poetic flavour to this beautifully written book. It is also an authoritative reference work. As well as having a carefully argued theoretical discourse of its own, it is a rich "Book of Quotations" on psychoanalytic concepts that we will be consulting for years to come. The comparison between adult and child psychoanalytic therapy is especially useful and the bringing together of the richness of thought about what constitutes psychoanalysis and psychotherapy may inspire many readers in other professions to train in this field.'
- Dilys Daws, Hon. Consultant Child Psychotherapist, Tavistock Clinic

'This book is a well integrated account of qualitative research into the role that infant observation plays in the growth of the skills needed to become a psychoanalytic psychotherapist. Sternberg discusses and describes these skills in detail, drawing on psychoanalytic, infant observation, and developmental psychology literature. Her study is a tour de force, and a treasure trove of information. It will be a greatly valued resource for all who read it.'
- Monica Lanyado, Child and Adolescent Psychotherapist, Training Supervisor, British Association of Psychotherapists
About the Author(s)
Janine Sternberg is a Consultant Child and Adolescent Psychotherapist at the Portman Clinic, Tavistock and Portman NHS Trust, having worked for many years at the Tavistock Mulberry Bush Day Unit. She trained originally as a child psychotherapist at the Tavistock Clinic and subsequently as an adult psychotherapist at the BAP. She is very involved in training issues in both institutions and active in the professional body for child psychotherapists, the ACP. She is currently Joint Editor of the Journal of Child Psychotherapy.
You may also like