Holotropic Breathwork: A New Approach to Self-Exploration and Therapy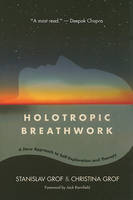 Book Details
Publisher : State University of New York Press
Published : 2010
Cover : Paperback
Pages : 244
Category :
Transpersonal Therapy
Catalogue No : 30475
ISBN 13 : 9781438433943
ISBN 10 : 1438433948
Also by Stanislav Grof

Also by Christina Grof
The definitive overview of this transformative breathwork.
In this long-awaited book, Stanislav Grof and Christina Grof describe their groundbreaking new form of self-exploration and psychotherapy: Holotropic Breathwork. Holotropic means moving toward wholeness, from the Greek holos (whole) and trepein (moving in the direction of). The breathwork utilizes the remarkable healing and transformative potential of nonordinary states of consciousness. These states engender a rich array of experiences with unique healing potentialreliving childhood memories, infancy, birth and prenatal life, and elements from the historical and archetypal realms of the collective unconscious. Induced by very simple meansa combination of accelerated breathing, evocative music, and bodywork in a safe and supportive setting, Holotropic Breathwork integrates the insights from modern consciousness research, depth psychology, transpersonal psychology, anthropology, Eastern spiritual practices, and mystical traditions. The Grofs work with holotropic states of consciousness has introduced revolutionary changes to psychiatry, psychology, and psychotherapy. Written in a clear, easily understandable style, this indispensable book summarizes their remarkable insights.
About the Author(s)
Stanislav Grof, MD, is a psychiatrist with more than fifty years of experience in research of non-ordinary states of consciousness. He has been Principal Investigator in a psychedelic research program at the Psychiatric Research Institute in Prague, Czechoslovakia; Chief of Psychiatric Research at the Maryland Psychiatric Research Center; Assistant Professor of Psychiatry at the Johns Hopkins University; and Scholar-in-Residence at the Esalen Institute. He is currently Professor of Psychology at the California Institute of Integral Studies, conducts professional training programs in holotropic breathwork, and gives lectures and seminars worldwide. He is one of the founders and chief theoreticians of transpersonal psychology and the founding president of the International Transpersonal Association (ITA). In 2007, he was granted the prestigious Vision 97 award from the Vaclav and Dagmar Havel Foundation in Prague. He is the author and editor of many books.
You may also like