Help Your Teenager Beat an Eating Disorder: Second Edition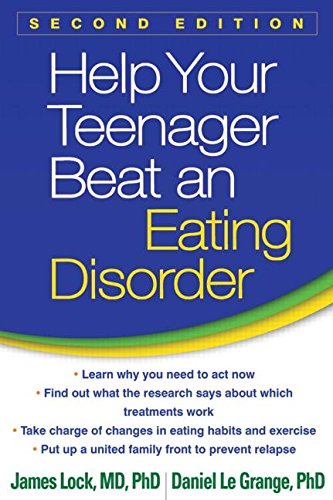 Also by Daniel Le Grange
Also by James Lock
Tens of thousands of parents have turned to this compassionate resource for support and practical advice grounded in cutting-edge scientific knowledge. Numerous vivid stories show how to recognize and address anorexia nervosa, bulimia nervosa, and other devastating eating disorders that wreak havoc on teens and their families. James Lock and Daniel Le Grange present strong evidence that parents--who have often been told to take a back seat in eating disorder treatment--can and must play a key role in recovery. Whether pursuing family-based treatment or other options, parents learn specific, doable steps for monitoring their teen's eating and exercise habits, managing mealtimes, ending weight-related power struggles, and collaborating successfully with health care providers. Featuring the latest research and resources, the second edition now addresses additional disorders recognized in DSM-5 (including binge-eating disorder).
About the Author(s)
James Lock, MD, PhD, is a child psychiatrist and Professor of Child Psychiatry and Pediatrics in the Division of Child and Adolescent Psychiatry and Child Development, Department of Psychiatry and Behavioral Sciences, Stanford University. He is the director of the Eating Disorders Program in the Division of Child Psychiatry and psychiatric director of an inpatient eating disorder program for children and adolescents at Lucile Salter Packard Children's Hospital at Stanford. The author of numerous scientific publications on eating disorders in youth, Dr. Lock is a recipient of the Price Family Foundation Award for Research Excellence from the National Eating Disorder Association, an NIMH Early Career Development Award, and an NIMH Mid-Career Development Award.
Daniel Le Grange, PhD, is Professor in the Department of Psychiatry and Behavioral Neuroscience and Director of the Eating Disorders Program at The University of Chicago. He trained at the Institute of Psychiatry, University of London, and was a member of the team at the Maudsley Hospital in London that developed family-based treatment for anorexia nervosa. He is the author of numerous research publications and received a National Institute of Mental Health (NIMH) Early Career Development Award. Dr. Le Grange is currently principal investigator for studies on treatment of both bulimia nervosa and anorexia nervosa.
You may also like