Healing after Parent Loss in Childhood and Adolescence: Therapeutic Interventions and Theoretical Considerations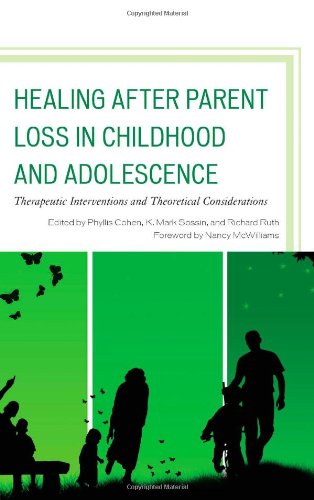 Also by Phyllis Cohen
In Healing after Parent Loss in Childhood and Adolescence: Therapeutic Interventions and Theoretical Considerations, experts explore the varied, often complex, and always tragic circumstances under which young people face losing a parent. Profound grief and feelings of powerlessness may accompany loss of a parent at any age, but distinctly so when such loss is experienced during formative years. Whenever these individuals seek help, therapists must be psychically prepared to enter into arenas of trauma, bereavement, and mourning. The children, teens, and adults presented are diverse in age, culture/ethnicity, and socioeconomic status. A diverse group of contributors showcase a wide range of effective approaches-from traditionally structured short- and long-term psychotherapies and psychoanalysis, to psycho-educational, supportive, and preventive interventions.
The writers in this volume do not shy away from tough matters such as urban violence, AIDS, and war; they address concerns practicing clinicians face, such as when to work with children, adolescents, and adults individually, and when and how to involve their surviving parents and families. Included in this book are issues related to the self-care and professional development needs of therapists who take on this difficult but essential work, including peer support and supervision. This volume is likely to spark important re-examinations across all fields of mental health practice. It will equip and empower clinicians of all kinds who undertake work with those who are grieving. Healing after Parent Loss in Childhood and Adolescence promises to be a vital and stimulating read for supervisors, teachers, and trainers of child, adolescent, and family clinicians.
About the Editor(s)
Richard Ruth, PhD, is associate professor of clinical psychology, director of clinical training, and chair of the child/adolescent track at the George Washington University PsyD program.
Phyllis Cohen, PhD, is the founder and director of the New York Institute for Psychotherapy Training in Infancy, Childhood, and Adolescence. She is also an adjunct assistant professor in the Department of Applied Psychology at New York University.
K. Mark Sossin, PhD, is professor of psychology and the associate chair of the Department of Psychology at Pace University. He is also the director of the Pace Parent-Infant/Toddler Research Nursery.
You may also like