Groupwork with Refugees and Survivors of Human Rights Abuses: The Power of Togetherness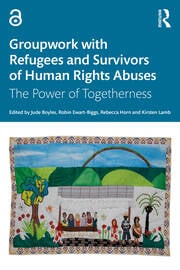 Book Details
Publisher : Routledge
Published : September 2022
Cover : Paperback
Pages : 242
Category :
Group Psychotherapy
Category 2 :
Trauma and Violence
Catalogue No : 96760
ISBN 13 : 9781032043883
ISBN 10 : 9781032043
Groupwork with Refugees and Survivors of Human Rights Abuses describes, explores and promotes the power of groupwork for refugees and survivors of human rights abuses in a range of contexts.
Drawing on multiple theoretical approaches, the book features chapters from practitioners running groups in different settings, such as torture rehabilitation services, refugee camps, and reception centres. The voices of participants demonstrate the variety, creativity, and value of group and community approaches for recovery. The editors have gathered chapters into three sections covering: community-based approaches; groups that work through the medium of "body and soul"; and group approaches that focus on change through the spoken word.
The book will be relevant to those working in rehabilitation, community, mental health, and humanitarian fields and are interested in using groupwork as part of their services.
Reviews and Endorsements
This is an exceptional and authoritative book that appears at the appropriate time, to help all of us grasp the complexities of human suffering resulting from the adversities of various forms of involuntarily dislocation and human rights violations, from a wide variety of perspectives. Its encyclopaedic, almost, scope provides a broad vision of effective interventions in many different contexts and settings, all over the world. Combining theory and practice, the book is written by committed practitioners, generously sharing their expertise and experiences, but also their sincere reflections about their work. The book will be a welcome resource for everyone working in these fields as well as for the informed readers who wish to obtain a thoughtful update on the current developments of these interventions. - Professor Renos K Papadopoulos, PhD, University of Essex. Clinical Psychologist, Family Therapist and Jungian psychoanalyst; author of Involuntary Dislocation. Home, Trauma, Resilience and Adversity-Activated Development

Framing the injustices against torture survivors, including asylum seekers, as moral transgressions requiring moral responses, this book brings together a collection of varied and powerful group practice examples of such responses. Togetherness, in group-based and community-based work with survivors, is exemplified as both a metaphor and as a means to foster solidarity against injustice, human connection, awareness-raising and collective action, towards the restoration of the human dignity of survivors and towards justice. In an era of individualising, pathologising psychological therapies being heralded as solutions to all forms of trauma, this book reminds us of the immense creativity and power of groupwork in enabling change beyond the individual. It is a timely and an invaluable resource for all those working with refugees and survivors of human rights abuses. - Nimisha Patel, Professor of Clinical Psychology, University of East London and Director of International Centre for Health and Human Rights, UK.

As a practitioner based in Sri Lanka, this collected volume was one I wanted to immediately share with my colleagues. Drawing from practice across diverse contexts - from Zimbabwe to Tunisia, from the UK to Uganda - the book brings together a truly global set of contributions that are accessible, descriptive and genuinely inspiring. The chapters give us an account of the underlying theories of change and values that guide these processes. Crucially, many also provide us with vital details about how these are responding to the wider events and socio-political processes that the participants of groupwork have to navigate in their daily lives - and underscore the importance of organic connections between approaches, context and the people involved in this work. The voices and views of the people whose experiences drive the groupwork are consistently and actively represented throughout, as are the different traditions and epistemologies that the approaches draw from. The contrasts between the diverse settings and approaches are largely implicit, but are very present and tangible to the reader, greatly enriching their experience. This collected volume is truly relevant to a global audience, offering meaningful insights into therapeutic groupwork approaches that have a lot to teach practitioners in any context. - Ananda Galappatti, Director of Strategy, MHPSS.net.

What a book! So much material, so many examples of hope emerging out of coming to terms with painful tragedy. The Contributors to this title have brought to life the challenges, and the joys of helping people to find their inner resources to cope with perhaps the worst of human experience – violent inhumanity. This is achieved by offering the reader examples of what has made a personal difference from groupwork projects around the world. The power of the group experience is revealed in many ways as people spend time together, seeking a way forward and offering each other support and encouragement. There is something fundamentally enhancing to the person through positive and constructive group experience. This title is impressive and inspiring, offering examples of how the best of human experience can help people to find new lives after experiencing the worst of humanity. And on a lighter note: from reading this book I now understand the therapeutic power of sprouting broccoli. You will have to read it as well to discover this. - Richard Bryant-Jefferies, author, Counselling Victims of Warfare
About the Editor(s)
Jude Boyles is a psychological therapist who specialises in working with refugees and survivors of human rights abuses. Jude established and manages a therapy service for UN resettled refugees for the Refugee Council.
Robin Ewart-Biggs is a systemic family therapist who works with survivors of human rights abuses with a focus on groupwork. He runs a charity for young people with cancer.
Rebecca Horn is an independent psychosocial specialist and senior research fellow at the Institute for Global Health and Development, Queen Margaret University, Edinburgh.
Kirsten Lamb worked as a clinical psychologist in NHS mental health services from 1981 to 2018. Kirsten works with refugee charities on a freelance basis.
You may also like