Group Analytic Psychotherapy: Method and Principles
Book Details
Publisher : Routledge
Published : 1986
Cover : Paperback
Pages : 190
Category :
Group Psychotherapy
Catalogue No : 2700
ISBN 13 : 9780946439225
ISBN 10 : 0946439222
Also by S.H. Foulkes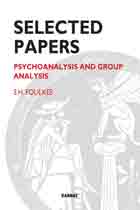 Group analysis is a form of psychotherapy in small groups and also a method for studying groups and the behavior of human individuals in their social aspects. Apart from a number of practical advantages, it has features of specific value. It is the method of choice for the investigation of many problems and for the treatment of many disturbances.
This volume puts the method into the centre, emphasizes the special features of the "group analytic situation" and the role of the conductor, or leader, in creating this situation. It tries to show what the conductor has to do in order to make all the members of his group active participants in the solution of their problems. In doing so, it shows how not only the group itself benefits, but also how every single individual can best develop his own personality. However, while this individual focus is important, the group is the ultimate aim of this therapy.
About the Author(s)
S.H. Foulkes (1898-1976) was born in Karlsruhe, and received his psychoanalytic training in the late 1920's in Vienna under Helene Deutsch. After some years in private practice he left Germany in 1933 and, after a brief stay in Geneva, settled in London at the invitation of Ernest Jones. During the 1940s he began to formulate the principles and methods of Group Analysis and Group-Analytical Psychotherapy. In 1952, with others, he founded the Group Analytic Society, and was still actively involved with teaching, lecturing and participation in group seminars until the time of his death.
You may also like