Group Psychotherapy: The Psychoanalytic Approach: Second Edition
Book Details
Publisher : Routledge
Published : 1965
Cover : Paperback
Pages : 288
Category :
Group Psychotherapy
Catalogue No : 2706
ISBN 13 : 9780946439102
ISBN 10 : 0946439109
Also by S.H. Foulkes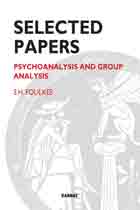 Also by E.J. Anthony

This classic work attempts to present a comprehensive account for the lay reader of the principles and methods of group psychotherapy.
Reviews and Endorsements
'This book contains the first attempt to give a comprehensive account for the lay reader of the principles and methods of Group Psychotherapy - i.e. the treatment in groups of individuals suffering from indispositions of the mind. Nowadays, the principles of individual psychotherapy, or psychoanalysis and related methods, are matters of fairly general knowledge. Information concerning group psychotherapy is scattered among papers in journals and books not easily accessible to, nor written for, the general reader.

'Dr. Foulkes and Dr. Anthony have collaborated not only to outline the relevant theory, but also to illuminate the subject with realistic case material. Naturally they have presented the subject from their own point of view, and even if this is distinctive, it is representative of important trends in therapeutic theory and practice. The basic ideas are in fact extremely simple and not a matter for dispute among the major psychotherapeutic schools.'
- C. A. Mace from the Editorial Foreword
About the Author(s)
S.H. Foulkes (1898-1976) was born in Karlsruhe, and received his psychoanalytic training in the late 1920's in Vienna under Helene Deutsch. After some years in private practice he left Germany in 1933 and, after a brief stay in Geneva, settled in London at the invitation of Ernest Jones. During the 1940s he began to formulate the principles and methods of Group Analysis and Group-Analytical Psychotherapy. In 1952, with others, he founded the Group Analytic Society, and was still actively involved with teaching, lecturing and participation in group seminars until the time of his death.
Dr. E. J. Anthony was a psychoanalyst who trained in London where he began a distinguished career as a child psychotherapist and psychiatrist. He studied child development under Jean Piaget and, after leaving the Maudsley Hospital, occupied the Ittleson chair of child psychiatry, at Washington University School of Medicine, St. Louis. He is the author of many papers on Group Analysis, psychoanalysis, and child psychiatry. His collaboration with Foulkes, who became his training analyst, began at Northfield Hospital and in the early 1950s he became a founder member of the Group Analytic Society in 1952. Towards the end of his career he became Director of Psychotherapy at Chestnut Lodge, where he developed a programme of group psychotherapy for adolescent inpatients.
You may also like