Ground Rules in Psychotherapy and Counselling

Book Details
Publisher : Routledge
Published : 1998
Cover : Paperback
Pages : 236
Category :
Reprinting
Category 2 :
Individual Psychotherapy
Catalogue No : 6220
ISBN 13 : 9781855751712
ISBN 10 : 1855751712
Also by Robert Langs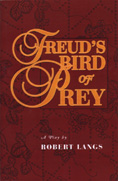 Robert Langs has long been one of the most individual and controversial psychoanalytic theorists. In this book, he concentrates on one of the most prominent areas of his thought: his insistence upon adherence to strict rules for boundaries (or "frames") in psychotherapy and psychoanalysis.

Starting from the statement that "Throughout the history of the universe, frames, contexts, rules, and boundaries have been vital aspects of the development and very existence of both physical structures and living organisms," Langs goes on to examine the profile of the issues of boundaries in psychoanalytic thought. He discusses Freud's technique papers on the subject, and goes on to elucidate his own approach, rooted in his thinking on evolutionary and adaptive processes which he has discussed in his previous work. Throughout the book, Langs gives both theoretical discussions and practical groundings of his ideas.

As with his previous book, Doing Supervision and Being Supervised (1994), Robert Langs here brings his unique energy and viewpoint to bear on an important but little-examined topic. Whether or not the reader agrees with him, Ground Rules in Psychotherapy and Counselling is essential reading for psychotherapists and psychoanalysts concerned about these vital issues.
About the Author(s)
Robert Langs, M.D., is well known as the author of many books on the subject of psychoanalytic psychotherapy, including The Technique of Psychoanalytic Psychotherapy (2 volumes), Psychotherapy: A Basic Text , A Primer of Psychotherapy and Decoding Your Dreams. He is currently Executive Director at the Program for Psychoanalytic Psychotherapy at the Beth Israel Medical Center, New York; Clinical Professor with the Department of Psychiatry, Mt. Sinai Hospital and School of Medicine, New York; and Visiting Clinical Investigator at the Nathan S. Kline Institute for Psychiatric Research, New York.
You may also like