Grief and Bereavement in Contemporary Society: Bridging Research and Practice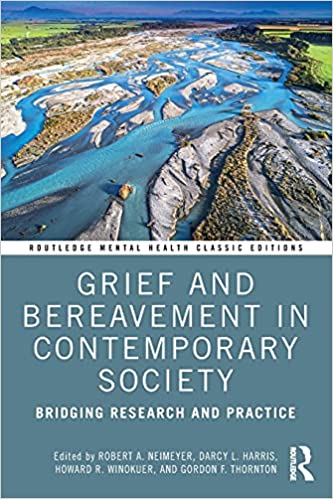 Book Details
Publisher : Routledge
Published : September 2021
Cover : Paperback
Pages : 442
Category :
Grief and Bereavement
Category 2 :
Trauma and Violence
Catalogue No : 95868
ISBN 13 : 9781032058917
ISBN 10 : 9781032058
Also by Robert A. Neimeyer
Also by Darcy L. Harris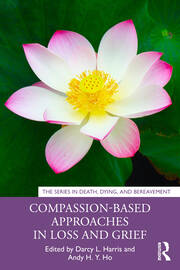 Also by Howard R. Winokuer
Grief and Bereavement in Contemporary Society is the authoritative guide to the study of and work with major themes in bereavement. The classic edition includes a new preface from the lead editors discussing advances in the field since the book's initial publication.
The book's chapters synthesize the best of research-based conceptualization and clinical wisdom across 30 of the most important topics in the field. The volume's contributors come from around the world, and their work reflects a level of cultural awareness of the diversity and universality of bereavement and its challenges that has rarely been approximated by other volumes. This is a readable, engaging, and comprehensive book that shares the most important scientific and applied work on the contemporary scene with a broad international audience. It's an essential addition to anyone with a serious interest in death, dying, and bereavement.
Reviews and Endorsements
"This book is a marvelous, intelligent response to the call for bridging the gap separating bereavement researchers and practitioners. Each chapter's collaborative team synthesizes important scholarship, provides challenging case studies, and persuasively addresses the nagging practitioner question of "So what?" The writing crackles, insights abound, and we are offered wide-ranging critical and experiential wisdom about a legion of bereavement realities that bedevil human beings."

David E. Balk, author of Dealing with Dying, Death, and Grief during Adolescence

"This landmark book has achieved a stunning integration of research and clinical practice. The structure is bold and innovative, and the book provides readers with an unparalleled opportunity to appreciate the common threads linking research and applied work on bereavement." - Camille Wortman, coauthor of Traumatic Bereavement: Treatment for Survivors of Sudden Death.

"The editors of this very readable and stimulating volume have taken the unique step of bringing together practitioners and researchers to write joint chapters on a wide range of topical issues in the bereavement field. No longer can it be said that those working in one of these capacities fail to take the wisdom, knowledge, expertise and experience of the other seriously. This is a highly significant contribution to our field." - Margaret S. Stroebe, coeditor of the Handbook of Bereavement Research and Practice: Advances in Theory and Intervention.

"The tone of this book is thoughtful, questioning, and respectful which is evident in the way researchers and practitioners have come together and shared their perspectives and knowledge. The authors and editors of the book enable the reader to personalize their experience, just as we do in life with different forms of loss. I thoroughly recommend this book to those with experience in death, dying, and bereavement." - Susan Meyerink, Grief Matters: The Australian Journal of Grief and Bereavement.
About the Editor(s)
Robert A. Neimeyer, PhD, is a professor of psychology at the University of Memphis, where he also maintains an active clinical practice. The author of over 400 articles and book chapters and a frequent workshop presenter, he is currently working to advance a more adequate theory of grieving as a meaning-making process. Neimeyer served as president of the Association for Death Education and Counseling (ADEC) and chair of the International Work Group for Death, Dying, & Bereavement. In recognition of his scholarly contributions, he has been granted the Eminent Faculty Award by the University of Memphis, made a fellow of the clinical psychology division of the American Psychological Association, and given lifetime achievement awards by both the Association for Death Education and Counseling and the International Network on Personal Meaning.
More titles by Robert A. Neimeyer
Darcy L. Harris, PhD, RN, RSW, FT, is an associate professor in the Department of Interdisciplinary Programs and the coordinator of the Thanatology Program at King's University College at Western University in London, Ontario, Canada. She also maintains a private clinical practice and does consulting and presentation work specializing in issues related to change, loss, transition, and grief.
More titles by Darcy L. Harris
Howard R. Winokuer, PhD, was the founder of the Winokuer Center for Counseling and Healing in Charlotte, North Carolina, and was a well-known author and internationally renowned speaker.
More titles by Howard R. Winokuer
Gordon F. Thornton, PhD, is professor emeritus at Indiana University of Pennsylvania and has served as president of the Association for Death Education and Counseling.
You may also like