Gender Dysphoria: A Therapeutic Model for Working with Children, Adolescents and Young Adults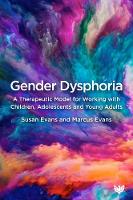 Book Details
Publisher : Karnac Books
Published : May 2021
Cover : Paperback
Pages : 272
Category :
Child and Adolescent Studies
Catalogue No : 95310
ISBN 13 : 9781912691784
ISBN 10 : 9781912691
Also by Marcus Evans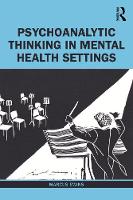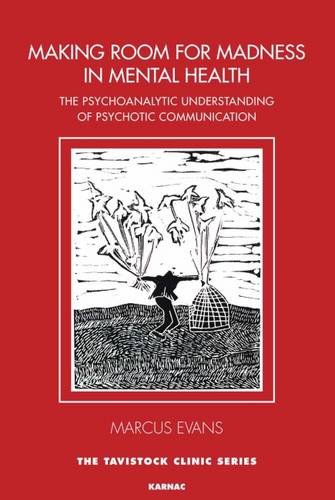 In recent years, there has been an explosion in the number of children and young people who diagnose themselves as gender dysphoric, or trans. In the UK, and worldwide, there is a growing tendency to refer them on to 'specialist gender services' almost as soon as they express any confusion or distress about their biological sex or gender identity. Due to the rapidly rising numbers and various pressures on the system, patients are increasingly likely to be offered life-altering medication and/or surgical treatments, often with little exploration of their emotional world.
As so little is yet known or understood regarding this increase in gender incongruent patients, it seems precipitous to proceed onto physical treatments before any assessment work is undertaken. Many who present as gender dysphoric have complex needs with comorbid problems such as autism, histories of abuse or trauma, social phobias, depression, eating disorders, and other mental health symptoms. Therefore, all aspects of the individual's life deserve thorough assessment and therapeutic work.
This book is aimed primarily at clinicians working in the field to provide a model for understanding, assessing, and treating gender dysphoria. The model uses a psychoanalytic framework to help explain disturbed states of mind and how psychic defences can be enlisted unconsciously to avoid overwhelming psychic pain. This offers professionals a way of trying to think with, and offer understanding to, their trans identifying clients. Clinical examples are given to illustrate these processes and promote the understanding of transgender children, adolescents, and young people and their internal worlds, their thinking, and their interpersonal relationships. As well as clinical exploration and understanding, the book includes an overview of the current political, social, and clinical environments which have all impacted on the clinical care of trans identifying individuals.
As well as professional and trainee clinicians, this book might also prove useful to parents, other professionals, and possibly the gender dysphoric person too.
Reviews and Endorsements
This book is as thoughtful as it is necessary. Every responsible clinician and therapist who treats children and adolescents must read it – and read it carefully.
Abigail Shrier, journalist and author of 'Irreversible Damage: Teenage Girls and the Transgender Craze'

I highly recommend this sensitive and timely book to laypersons and professionals who are interested in learning about the complex, controversial, and contemporary subject of gender dysphoria. The authors, Susan and Marcus Evans, are open, compassionate, non-judgemental, and able to tolerate uncertainty in their understanding of those who experience gender dysphoria, are transitioning, or detransitioning. Their psychoanalytically oriented therapeutic model takes into account the individual's development, family, culture, and political environment. I think the reader will especially appreciate the additional attention paid to the response of adolescents, emotionally unstable personality disordered people, and suicidal individuals to gender dysphoria.
Donald Campbell, past President of the British Psychoanalytical Society and former Secretary General of the International Psychoanalytical Association

Gender dysphoria is increasingly being seen as a part of the spectrum of human diversity. This has resulted in a profoundly reductionistic and decontextualised clinical approach to gender distress. The authors draw on their extensive clinical experience to illustrate how gender dysphoria cannot be understood without understanding the developmental and relational contexts within which it arises. Their detailed case examples document the unique psychic landscapes of people suffering gender dysphoria, illuminating how the ubiquitous "born in the wrong body" conceptualisation can leave vast areas of historical and current lived experience unaddressed. The authors utilise a psychoanalytic lens to understand the experience of both patient and therapist in therapeutic work with gender dysphoria, in a way that is both accessible and insightful. This will be an invaluable reference for those seeking to go beyond the surface to work at depth with gender dysphoria. This work is remarkable for its bravery in presenting a perspective on gender dysphoria that is increasingly being excluded from social and clinical discourse.
Roberto D'Angelo, Training and Supervising Analyst, Institute of Contemporary Psychoanalysis, Los Angeles and President of the Society for Evidence-Based Gender Medicine

This clear, excellent, clinically based account is very timely. It will help those who want to find their way through the confusing and often contentious writings on the subject of gender identity. It is well founded on experience of helping and working with people who do not feel at home in their bodies, particularly in regard to their sexual identity. They bring to the subject an unusual amount of clinical experience of this specialised psychological area. I strongly recommend it to those in the psychological, medical, and social fields, as well as to anyone who wants an informed account of a confused and confusing subject.
Dr Ronald Britton, FRCPsych, Distinguished Fellow, British Psychoanalytical Society
Table of Contents

Acknowledgements
Preface by David Bell
Foreword by Stephen B. Levine

CHAPTER ONE
Why have we written this book?

CHAPTER TWO
Developmental theory

CHAPTER THREE
Psychoanalytic ideas regarding gender dysphoria

CHAPTER FOUR
Working with fixed states of mind

CHAPTER FIVE
The family

CHAPTER SIX
Adolescence

CHAPTER SEVEN
Complexities of delivering therapy

CHAPTER EIGHT
Detransitioners

CHAPTER NINE
The link between suicidal ideation and gender dysphoria

CHAPTER TEN
The link between emotionally unstable personality disorder and gender dysphoria in mental health settings

CHAPTER ELEVEN
Co-morbid mental health issues and gender dysphoria

CHAPTER TWELVE
The societal, cultural and political environment

References
Index
About the Author(s)
Susan Hickman Evans is a psychoanalytic psychotherapist trained at the former Lincoln Centre for Psychotherapy. Retired after nearly 40 years in the NHS, she now has a private practice in South East London. She is a member of the British Psychotherapy Foundation, the London Psychoanalytic Psychotherapy Service, and is registered with the British Psychoanalytic Council (BCP). She trained as a State Registered Nurse in 1977, then trained as an RMN and worked within many mental health specialist services including addictions, eating disorders, and in a specialist mother and baby service, which won the Sir Graham Day Award for NHS service development (1999).

As a psychotherapist she worked for 12 years at the Tavistock and Portman NHSFT in the Adult Department and also in the Gender Identity Development Service for Children. She was responsible as Course Organiser for the development and delivery as senior clinical lecturer of several training programmes at the Tavistock and a Senior Fellow at University of East London.
Marcus Evans is a consultant adult psychotherapist at the Tavistock & Portman NHS Foundation Trust with thirty-five years experience in mental health as a practitioner, lecturer and manager. He qualified as a psychiatric nurse in 1983 and went on to occupy nursing posts as charge nurse of St. Giles Day Hospital, clinical nurse specialist in liaison psychiatry and para-suicide in Kings College Hospital A&E, and clinical nurse specialist in psychotherapy at the Bethlem and Maudsley hospitals. After qualifying as a psychotherapist at the Tavistock & Portman NHS Trust, he took up a post as head of the nursing discipline with a brief to develop the nursing discipline within the Trust. He held the post of Head of Nursing and consultant Adult psychotherapist until taking on the post of Associate Clinical Director of the adult and adolescent departments between 2011 and 2015. Marcus has supervised designed developed and taught outreach courses for front line mental health staff in various settings for the last twenty-five years in many mental health trusts including Camden and Islington, the Bethlem and Maudsley, and Broadmoor. He was also one of the founding members of the Fitzjohns Service for the treatment of patients with severe and enduring mental health conditions and/or personality disorder in the adult department and since stepping down as the associate clinical director he has started working as a consultant adult psychotherapist in the Portman clinic. His passion is the application of psychoanalytic ideas to the treatment and care of patients in mental health settings.
You may also like