Gender Dysphoria: A Therapeutic Model for Working with Children, Adolescents and Young Adults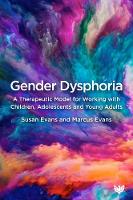 Book Details
Publisher : Phoenix Publishing House
Published : 2021
Cover : Paperback
Pages : 272
Category :
Child and Adolescent Studies
Catalogue No : 95310
ISBN 13 : 9781912691784
ISBN 10 : 9781912691
About the Author(s)
Susan Hickman Evans is a psychoanalytic psychotherapist trained at the former Lincoln Centre for Psychotherapy. Retired after nearly 40 years in the NHS, she now has a private practice in South East London. She is a member of the British Psychotherapy Foundation, the London Psychoanalytic Psychotherapy Service, and is registered with the British Psychoanalytic Council (BCP). She trained as a State Registered Nurse in 1977, then trained as an RMN and worked within many mental health specialist services including addictions, eating disorders, and in a specialist mother and baby service, which won the Sir Graham Day Award for NHS service development (1999).

As a psychotherapist she worked for 12 years at the Tavistock and Portman NHSFT in the Adult Department and also in the Gender Identity Development Service for Children. She was responsible as Course Organiser for the development and delivery as senior clinical lecturer of several training programmes at the Tavistock and a Senior Fellow at University of East London.
Marcus Evans is a consultant adult psychotherapist at the Tavistock & Portman NHS Foundation Trust with thirty-five years experience in mental health as a practitioner, lecturer and manager. He qualified as a psychiatric nurse in 1983 and went on to occupy nursing posts as charge nurse of St. Giles Day Hospital, clinical nurse specialist in liaison psychiatry and para-suicide in Kings College Hospital A&E, and clinical nurse specialist in psychotherapy at the Bethlem and Maudsley hospitals. After qualifying as a psychotherapist at the Tavistock & Portman NHS Trust, he took up a post as head of the nursing discipline with a brief to develop the nursing discipline within the Trust. He held the post of Head of Nursing and consultant Adult psychotherapist until taking on the post of Associate Clinical Director of the adult and adolescent departments between 2011 and 2015. Marcus has supervised designed developed and taught outreach courses for front line mental health staff in various settings for the last twenty-five years in many mental health trusts including Camden and Islington, the Bethlem and Maudsley, and Broadmoor. He was also one of the founding members of the Fitzjohns Service for the treatment of patients with severe and enduring mental health conditions and/or personality disorder in the adult department and since stepping down as the associate clinical director he has started working as a consultant adult psychotherapist in the Portman clinic. His passion is the application of psychoanalytic ideas to the treatment and care of patients in mental health settings.