Fundamentals of Adaptive Psychotherapy and Counselling

Book Details
Publisher : Palgrave
Published : January 2004
Cover : Paperback
Category :
Individual Psychotherapy
Catalogue No : 91861
ISBN 13 : 9781403903426
ISBN 10 : 1403903425
Also by Robert Langs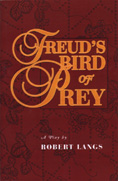 This important text not only brings together a synthesis of Robert Langs' most important ideas and the latest developments in his thinking - many of them of utmost importance to all manner of therapists - it also presents them in a form that is accessible to the reader new to the communicative approach, as well as those with more experience. With separate sections on theory and practice that clearly define the basic principles that apply to all forms of psychotherapy and counselling, the book is an excellent starting point as a basic introduction to, and reconsideration of, psychotherapy and counselling for trainees and practitioners.
Reviews and Endorsements
Contents
PART ONE: BASIC CONCEPTS
Two Modes of Psychotherapy and Counselling
Two Modes of Communication
Models of the Mind
The Conscious System
The Deep Unconscious System
Ground Rules and Boundaries
Death Anxiety and the Evolution of the Mind
PART TWO: CLINICAL TECHNIQUE
Indicators: Symptoms and Resistances
Triggers and Themes
Three Classes of Intervention
Trigger Decoded Interpretations
The Validating Process
The First Session
An Unnatural Profession
Glossary of Terms
Bibliography

ROBERT LANGS
Honorary Visiting Fellow with the School of Psychotherapy and Counselling, Regent's College, London. He is the author of forty-three books to the profession and general public on dreams, psychotherapy, unconscious communication, a science of the mind
About the Author(s)
Robert Langs, M.D., is well known as the author of many books on the subject of psychoanalytic psychotherapy, including The Technique of Psychoanalytic Psychotherapy (2 volumes), Psychotherapy: A Basic Text , A Primer of Psychotherapy and Decoding Your Dreams. He is currently Executive Director at the Program for Psychoanalytic Psychotherapy at the Beth Israel Medical Center, New York; Clinical Professor with the Department of Psychiatry, Mt. Sinai Hospital and School of Medicine, New York; and Visiting Clinical Investigator at the Nathan S. Kline Institute for Psychiatric Research, New York.
You may also like