Freud Wars: An Introduction to the Philosophy of Psychoanalysis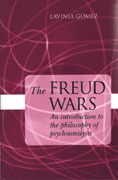 Book Details
Publisher : Routledge
Published : January 2005
Cover : Paperback
Category :
Psychoanalysis
Catalogue No : 22464
ISBN 13 : 9781583917114
ISBN 10 : 158391711X
Also by Lavinia Gomez
How can psychoanalytic thinking be justified? The Freud Wars offers a comprehensive introduction to the crucial question of the justification of psychoanalysis. No specialised knowledge is assumed, and the book is clear and accessible while still conveying the complexity and richness of the subject. It provides a fascinating introduction to philosophical thinking on psychoanalysis for students and practitioners of psychoanalysis, psychotherapy and philosophy.
Reviews and Endorsements
Part I examines three powerful critiques of psychoanalysis in the context of a recent controversy about its nature and legitimacy: is it a bankrupt science, an innovative science, or not a science at all but a system of interpretation? The discussion makes sense of the entrenched disagreement about the validity of psychoanalysis, and demonstrates how the disagreement is rooted in the theoretical ambiguity of the central concept of psychoanalysis, the unconscious. This ambiguity is then presented as the pathway to a new way of understanding psychoanalysis, based on a mode of thinking that precedes division into mental and physical. The reader is drawn into a lively and thought-provoking analysis of the central issues:-What would it mean for psychoanalysis to count as a science? -Is psychoanalysis a form of hermeneutics? -How can mental and physical explanations coincide?Part II contains the source material for Part I: the influential critiques of psychoanalysis by Adolf Grunbaum, Thomas Nagel and Jurgen Habermas.
About the Author(s)
Lavinia Gomez worked for thirty years as a psychotherapist and supervisor and as a trainer at a number of psychotherapy training organisations. She is the author of three books that reflect her interests in Object Relations and in philosophy, especially the philosophy of psychoanalysis and the legitimacy of psychoanalysis as a subject.
You may also like