Freud on a Precipice: How Freud's Fate Pushed Psychoanalysis Over the Edge

Book Details
Publisher : Jason Aronson
Published : 2010
Cover : Hardback
Pages : 210
Category :
Psychoanalysis
Catalogue No : 29188
ISBN 13 : 9780765706003
ISBN 10 : 0765706008
Also by Robert Langs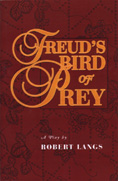 This book is a psychoanalytic detective story that takes the reader back to the late 1890's and to the generally unappreciated, yet single most important, turning point in the history of psychoanalysis. The context is the death of Freud's father and the decision Freud made to abandon his first, reality-centered theory of the mind in favor of a theory focused on inner fantasies and needs. Marshalling a large body of evidence, Langs views this change of heart as a regressive paradigm shift driven by unconsciously influential archetypes that were, in turn, linked to a series of early-life traumas in Freud's life, possibly eight in all, several of them preceding Freud's birth and all but one outside of Freud's conscious awareness. The ramifications of these incidents placed Freud on a later-day precipice from which his fall into equivalents of homicide and suicide were at risk; Freud shifted focus to save his life!
Langs' detective work brings him to new insights into such matters as the psychological archetypes that affect the creation and modifications of paradigms, physical and mental; a new, utilitarian view of the design of the emotion-processing mind; recognition of the complex unconscious impact of reality and of death-related traumas on the human psyche and emotionally-charged choices; the vast superiority of Freud's first paradigm over his second theory of the mind; and the unconscious reasons, despite its many flaws, that Freud's second paradigm remains in favor to this very day. Freud saved his life by shifting course, but at the same time he created a theory that must be held partly accountable for the compromised forms of dynamic therapy and broad psychological harm that has followed in its wake. Using an updated version of Freud's first paradigm, Langs shows us a better way to live and work, as a psychotherapist or any other career.
About the Author(s)
Robert Langs, M.D., is well known as the author of many books on the subject of psychoanalytic psychotherapy, including The Technique of Psychoanalytic Psychotherapy (2 volumes), Psychotherapy: A Basic Text , A Primer of Psychotherapy and Decoding Your Dreams. He is currently Executive Director at the Program for Psychoanalytic Psychotherapy at the Beth Israel Medical Center, New York; Clinical Professor with the Department of Psychiatry, Mt. Sinai Hospital and School of Medicine, New York; and Visiting Clinical Investigator at the Nathan S. Kline Institute for Psychiatric Research, New York.
You may also like