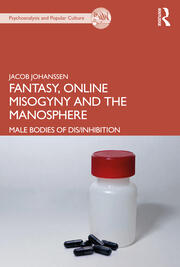 Book Details
Publisher : Routledge
Published : October 2021
Cover : Paperback
Pages : 248
Category :
Psychoanalysis
Catalogue No : 96198
ISBN 13 : 9780367468651
ISBN 10 : 9780367468
Also by Jacob Johanssen
This book presents the first in-depth study of online misogyny and the manosphere from a psychoanalytic perspective.
The author argues that the men of the manosphere present contradictory thoughts, desires and fantasies about women which include but also go beyond misogyny. They are in a state of dis/inhibition: torn between (un)conscious forces and fantasies which erupt and are defended against. Dis/inhibition shows itself in self-victimization and defensive apathy as well as toxic agency and symbolic power and expresses itself in desire for and hatred of other bodies. The text draws on the psychoanalytic thinkers Klaus Theweleit, Elisabeth Young-Bruehl, Jessica Benjamin and Wilhelm Reich to present detailed analyses of the communities within the so-called manosphere, including incels, Men Going Their Own Way (MGTOW), alt-right YouTubers and NoFap users. Drawing on wider discussions about the status of sexuality in contemporary neoliberal technoculture since the sexual revolution of the late 1960s, it illuminates how sexuality, racism and images of the white male body shape the fantasies and affects of many men on the internet and beyond.
Integrating a unique theoretical framework to help understand how today's increase in online misogyny relates to the alt-right and fascism, Online Misogyny and the Manosphere is an important resource for academics in a variety of fields including psychoanalysis, media and communication studies, internet studies, masculinity research and more.
Reviews and Endorsements
"Jacob Johanssen examines today's relevant 'fascist' men and their murderous actions in the light of the older as well as the newer research literature; thinks further newer psycho-analytic concepts and brings them in relation to the changed technological nature of today's world-greatest thanks for this gigantic work." From the Preface by Klaus Theweleit, author of Male Fantasies

"Jacob Johanssen's Fantasy, Online Misogyny and the Manosphere: Male Bodies of Dis/Inhibition is a timely and welcome addition to the growing body of scholarship on anti-feminist formations online. This vibrant psychosocial study explores the psychodynamics of anti-feminist groups and their members, but always within a broader sociological context. Such an approach is especially important for understanding radicalisation processes, which are shaped by complex experiences, fantasies and expressions, as well as by the socio-political factors that enable and amplify misogyny. Johanssen's study neither defuses nor excuses their misogyny, but rather demonstrates how personal contradictions, incoherencies and ambivalences become channelled into extreme and hateful forms of political dogma. Always attendant to the contextual complexities of neoliberal capitalism, data-driven politics and the dynamics of the alt-right, Fantasy, Online Misogyny and the Manosphere enriches our understanding of white male supremacism by adding new lenses and perspectives through which to view the fantasies that drive this increasingly sinister political reality." - Debbie Ging, Associate Professor of Media Studies, Dublin City University.

"In a time of political polarisation and multiplying hatreds in the 'real' and 'virtual' worlds - a division that now holds little value - Jacob Johanssen's book is an important guide to some of the most disturbing elements of the 'manosphere'. Addressing the startling rhetoric of incels, MGTOWs, NoFaps and others, Johanssen offers historical context, social and political insight and, most of all, a thorough psychoanalytic reading of this significant and dangerous contemporary arena for the expression of toxic masculinities." - Stephen Frosh, Professor of Psychology, Department of Psychosocial Studies, Birkbeck (University of London).

"Jacob Johanssen's Fantasy, Online Misogyny and the Manosphere could hardly be a more timely intervention in debates around contemporary masculinities and misogyny in the digital sphere. In this beautifully written and scrupulously researched book Johannsen draws together the disparate communities that comprise what is now known as the 'manopshere' and its discontents. The author's intention, spectacularly realised, is to construct a psychosocial analysis of online misogyny and its connections to fantasy, affect and desire. Given the growth in spaces where these practices take place, in spite of (or perhaps in reaction to) a cultural context in which sexism is increasingly challenged and under threat, a study such as this makes a very necessary contribution to the growing field of literature tackling online misogyny. This is essential reading for anyone interested in the emergence, mechanics and practices of the 'manosphere' and wider cultures of and practices of pernicious toxic masculinity." - John Mercer, Professor of Gender and Sexuality, Birmingham Centre for Media and Cultural Research.

"A painful, yet highly necessary, read for any feminist and antiracist, Johanssen's complex study of the online manosphere illustrates the deeply contradictory relationship of misogynistic men to their own identities, desires, fantasies, and dis/inhibitions. Through his poignant analysis of how misogynistic aggression often hides intense insecurity and fragility, Johanssen demonstrates that the world would be a better place if misogynistic men-along with everyone else-understood what Jacques Lacan emphasized, namely that nobody possesses the phallus, that phallic power is a purely illusory construct with no real-life referent. A recognition of this simple fact would open a way toward less toxic masculinities and a way out of the 'us vs. them' mentality that continues to poison the gendered terrain of contemporary life." - Mari Ruti, Distinguished Professor of Critical Theory and of Gender and Sexuality Studies, University of Toronto.
About the Author(s)
Jacob Johanssen is Senior Lecturer in Communications, St. Mary's University (London). His research interests include psychoanalysis and digital media, audience research, sexuality and digital media, affect theories, psychosocial studies and critical theory. He is co-editor of the Counterspace section of the journal Psychoanalysis, Culture & Society and a founder scholar of the British Psychoanalytic Council (BPC).
You may also like