Family-Based Treatment for Avoidant/Restrictive Food Intake Disorder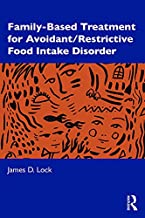 Book Details
Publisher : Routledge
Published : October 2021
Cover : Paperback
Pages : 246
Category :
Eating Disorders
Catalogue No : 95973
ISBN 13 : 9780367486396
ISBN 10 : 9780367486
Also by James Lock
This book describes the theoretical and clinical rationale for the use of Family-Based Treatment (FBT) for Avoidant/Restrictive Food Intake Disorder (ARFID).
Based on years of clinical care and systematic study of children and adolescents with ARFID using Family-Based Treatment for Avoidant/Restrictive Food Intake Disorder (FBT-ARFID), the manual provides guidance about assessment of ARFID. Topics covered include how to incorporate the medical, nutritional, and psychiatric problems that are common with this disorder and how to evaluate the principle maintaining behaviors related to lack of interest or appetite, extreme sensory sensitivities to food, and fear of physical repercussions of eating (e.g. pain, vomiting, allergic reactions). Step-by-step illustrations of the key interventions in FBT-ARFID are provided and detailed case discussions demonstrate how these are implemented in a range of cases.
Ideal for clinical practitioners who treat children and adolescents with eating disorders, specifically, psychologists, psychiatrists, social workers, and allied health practitioners.
About the Author(s)
James Lock, MD, PhD, is a child psychiatrist and Professor of Child Psychiatry and Pediatrics in the Division of Child and Adolescent Psychiatry and Child Development, Department of Psychiatry and Behavioral Sciences, Stanford University. He is the director of the Eating Disorders Program in the Division of Child Psychiatry and psychiatric director of an inpatient eating disorder program for children and adolescents at Lucile Salter Packard Children's Hospital at Stanford. The author of numerous scientific publications on eating disorders in youth, Dr. Lock is a recipient of the Price Family Foundation Award for Research Excellence from the National Eating Disorder Association, an NIMH Early Career Development Award, and an NIMH Mid-Career Development Award.
You may also like