Faces of the Freudian 'I': The Structure of the Ego in Psychoanalysis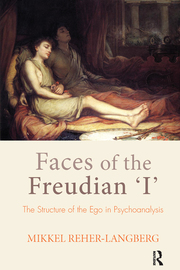 Book Details
Publisher : Routledge
Published : December 2017
Cover : Paperback
Pages : 128
Category :
Lacanian Psychoanalysis
Category 2 :
Psychoanalysis
Catalogue No : 39906
ISBN 13 : 9781782205715
ISBN 10 : 1782205713
In this book, Reher-Langberg undertakes a systematic analysis of the notion of the Ego, such as it evolves throughout the writings of Sigmund Freud. This is done in close readings of central works, representing the different phases in the development of Freud's thinking, from the 'Studies on Hysteria' to 'The Ego and the Id'.
Throughout the examined works, one aspect of Freud's thought turns out to be particularly central: a paradoxical coexistence of apparently incompatible perspectives, without a sense of necessary movement toward their synthesis. In keeping with this, Reher-Langberg shows how the Freudian Ego is consistently depicted from two simultaneous though conflicting viewpoints, making up two distinct discourses of the Ego - one from its own perspective, a discourse of an agentic "I as subject", and the other from the perspective of the sites of the unconscious, of a contingent "I as object".
In weaving together a consistent narrative of Freud's thought around the notion of the Ego, and pointing out a constancy of perspectives amidst theoretical developments, Reher-Langberg's book offers the reader a key to navigating the complexity of Freud's thinking. Presenting a chronologically broad, yet philosophically precise, survey of Freud's writings, the book also offers a focused introduction to Freud's work, of interest to Freud scholars both within and outside the clinical field.
About the Author(s)
Mikkel Reher-Langberg is a clinical psychologist working in Copenhagen with a focus on intensive short-term dynamic psychotherapy and Lacanian psychoanalysis. Besides his clinical practice, Reher-Langberg is the former president of the Danish Society for Theoretical Psychoanalysis, and is preoccupied with the application of psychoanalytic thought within such fields as philosophy, cinema, and music.
You may also like