Engaging with Complexity: Child and Adolescent Mental Health and Education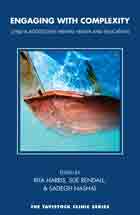 Book Details
Publisher : Routledge
Published : 2011
Cover : Paperback
Pages : 240
Category :
Child and Adolescent Studies
Catalogue No : 31191
ISBN 13 : 9781780490038
ISBN 10 : 1780490038
Children and young people spend a great deal of their time in schools and other education settings. Consequently those working in such contexts have a huge impact and influence on the development, experiences and thinking of the children and young people with whom they interact.
This book represents the richness and variety of ideas shared by some of the contributors to the first European Conference on Child and Adolescent Mental Health in Education Settings, held in Paris in 2005 and hosted by the Tavistock and Portman NHS Foundation Trust. The intention of the event was to gather together child mental health and educational professionals from across Europe to share innovative practice. The success and impact of this conference was such that it became the first of what is now a bi-annual series of events each taking place in a different European city.
Reviews and Endorsements
'These are narratives of courage from the educational "coalface" in a variety of European settings. The reader is engaged by observations of children, some of whom have been subject to unbearable loss and terror. There are no quick fixes here. This is careful work based on psychoanalytical and systemic principles. Through understanding past and present relationships staff and pupils are able to make sense of otherwise futile or destructive obstacles to learning.'
- Sebastian Kraemer

About the Editor(s)
Rita Harris is CAMHS Director of the Tavistock and Portman NHS Foundation Trust. She continues to work as a clinical psychologist and family therapist in a fostering, adoption, and kinship care service within the Trust, specializing in issues of contact for children with parents with whom they no longer live. She has a long record of developing community services in partnership with local authorities and the voluntary sector and involving children and young people in their planning and delivery.
Sue Rendall is a consultant child and educational psychologist and is Director of EP Initial and CPD Doctoral Training at the Tavistock and Portman NHS Foundation Trust. She has thirty-seven years' experience working in health and educational contexts, including being head of middle school in a co-educational comprehensive school and, later, after training as an educational psychologist at Birmingham in 1981, as an educational psychologist in three local-authority multidisciplinary services. She was Vice Dean of Postgraduate Training in the Child & Family Directorate of the Tavistock, for six years, and in 2005-6 was seconded to the DfES for two days a week as Professional Advisor for Child & Adolescent Mental Health. Her PhD research was a systemic understanding of school exclusion.
Sadegh Nashat is a consultant clinical psychologist and a systemic psychotherapist at the Tavistock and Portman NHS Foundation Trust. As a training lead, he has developed and delivered a range of child, adolescent, and family mental health programmes aimed at education professionals. He has a special interest in the area of social and school exclusion and in mental health interventions in education settings.
You may also like