Race, Colour and the Processes of Racialization: New Perspectives from Group analysis, Psychoanalysis and Sociology

Book Details
Publisher : Routledge
Published : 2002
Cover : Paperback
Category :
Group Psychotherapy
Category 2 :
Psychoanalysis
Catalogue No : 87558
ISBN 13 : 9781583912928
ISBN 10 : 1583912924
Also by Farhad Dalal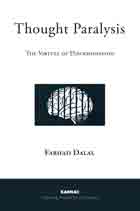 Is racial conflict determined by biology or society?
So many conflicts appear to be caused by racial and ethnic differences; for example, the cities of Britain and America are regularly affected by race riots. It is argued by socio-biologists and some schools of psychoanalysis that our instincts are programmed to hate those different to us by evolutionary and developmental mechanisms. This book argues against this line, proposing an alternative drawing on insights from diverse disciplines including anthropology, social psychology and linguistics, to give power-relations a critical explanatory role in the generation of hatreds. Farhad Dalal argues that people differentiate between races in order to make a distinction between the 'haves' and 'must-not-haves', and that this process is cognitive, emotional and political rather than biological.
Examining the subject over the past thousand years, Race, Colour and the Processes of Racialisation covers:
* psychoanalytic and other theories of racism
* a new theorisation of racism based on group analytic theory
* a general theory of difference based on the works of Fanon, Elias, Matte-Blanco and Foulkes
* application of this theory to race and racism.
Farhad Dalal concludes that the structures of society are reflected in the structures of the psyche, and both of these are colour coded. This book will be invaluable to students, academics and practitioners in the areas of psychoanalysis, group analysis, psychotherapy and counselling.
Reviews and Endorsements
'Dalal has written an interesting and engaging book that makes a real contribution to our understanding of a much-neglected topic. It deserves to be read both by clinicians and by those interested in theorising the psychodynamics of racism.' - International Journal of Psychoanalysis.

'This book is useful, both as a stand alone monologue and a text of reference for the reader who wants to dip into the subject area. It should appeal to those with an interest in sociology, psychoanalysis, psychotherapy, group relations and counselling, to both academics and practicioners.' - Organisational and Social Dynamics.

'In ten chapters, we have an almost encyclopedic series of summaries, appropriations, and syntheses of previous work on race that are woven seamlessly together without creating what could easily seem like a mere catalogue of ideas. Accordingly, we are treated to scholarly expatiations of the work of Freud, Klein, Fairbairn, and Winnicott that deepen and reconfigure what we know about racism and psychoanalysis. ...Thanks to Dalal's major contribution, psychoanalytic training institutes and psychoanalysis in general now have an authoritative book with informed conceptual pretexts, varied contexts, and a scholarly text on race, racialization, color, ethnicity, and culture. If we want to teach ourselves and our candidates how to theorize race and metapsychology, we should start with Dalal." - Maurice Apprey, The Psychoanalytic Quarterly.
About the Author(s)
Farhad Dalal works as a psychotherapist and group analyst in private practice, and has done so for about twenty-five years. Now living and working in Devon, he is a training group analyst for the Institute of Group Analysis, London. He also works with teams and organizations as a facilitator and consultant. Until recently, he was an Associate Fellow at the University of Hertfordshire's Business School. He has published numerous papers on the subjects of psychoanalysis, group analysis, policy, organizations, and racism.
You may also like