Emotional Communication and Therapeutic Change: Understanding Psychotherapy Through Multiple Code Theory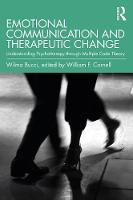 Book Details
Publisher : Routledge
Published : December 2020
Cover : Paperback
Pages : 228
Category :
Psychoanalysis
Category 2 :
Individual Psychotherapy
Catalogue No : 95436
ISBN 13 : 9780367645618
ISBN 10 : 9780367645
Also by Wilma Bucci
Also by William F. Cornell
In this book, Wilma Bucci applies her skills as a cognitive psychologist and researcher to the fields of psychoanalysis and psychotherapy, opening up new avenues for understanding the underlying processes that facilitate therapeutic communication and change. Grounded in research geared to understanding and demonstrating the clinical process (rather than "outcome") of analytic inquiry and therapeutic dialogue, Bucci's multiple code theory offers clinicians, researchers, trainers, and students new perspectives on the essential, often unlanguaged, foundations of the psychotherapeutic endeavour.
Reviews and Endorsements
Wilma S. Bucci, Ph.D., who works on the border of cognitive science and psychoanalysis, incisively delineates her most recent "systematic theory of human psychological organization." Rooted in current scientific research in cognitive science and affective and social neuroscience, Bucci masterfully applies her understandings of the formation and transformation of emotional schemas to the change processes that occur in psychoanalysis and psychotherapy. She treats us to a conceptual revision of such phenomena as unconscious processes and to verbal and non-verbal (sensorial) symbolic processes. This book, I believe, will become a landmark in contemporary applications of cognitive science to the theories and practice of psychoanalysis and psychotherapies. This is a must read for all serious students of the human mind. - James L. Fosshage, Ph.D. Clinical Professor, NYU Postdoctoral Program of Psychotherapy and Psychoanalysis, Co-founding Board Director and Faculty, National Institute for the Psychotherapies.

This is a really important book. It answers to the fundamental question of both psychoanalytic theory and practice: Where do our worded thoughts fit with the sprawling scenery of images, feeling, gesture, and emotions that furnish our living world? To answer, Bucci reminds us that emotion and cognition are not so distinct, after all. Whether orienting us in continuous dimensions or by neat symbols, they work together to interpret our world, and Bucci's mission is to describe the nature of that partnership. It has been hard to get a scientific focus on non-symbolic awareness. Bucci's solution is to use recent neurophysiological findings to particularize the un-worded material that feeds articulated reflection. That, in turn, suggests a new picture of psychopathology, and a clearer and extremely plausible theory of therapeutic action.

Not the least of Bucci's accomplishments is to offer a more than usually convincing demonstration that hard science can advance real-life psychoanalysis. Bucci's classification of expression into symbolic (language), sub-symbolic and emotion schemas has helped expand our empathic repertoire. This book will give the practitioner a new respect for the centrality of nuance, a new tolerance for dimensional thinking, and a bit of a vacation from categorical prisons. - Lawrence Friedman, M.D., Clinical Professor of Psychiatry, Weill-Cornell Medical College Faculty, Psychoanalytic Association of New York.


Over 20 years ago, Wilma Bucci broke new ground with her ingenious development of Multiple Code Theory. As a result she had been regarded as one of the most brilliant and creative minds in the psychoanalytic world. However, with this extraordinary new book, Emotional Communication and Therapeutic Change, she has truly outdone herself. Dr. Bucci has redefined the relationship between mind and body and between emotion and cognition in a compelling integrative effort that will change forever the way we think about psychoanalytic and psychotherapeutic work. I highly recommend this new contribution to our field to all those in the mental health professions. - Glen O. Gabbard, MD Clinical Professor of Psychiatry, Baylor College of Medicine.


A lot has been said and written on how the two contexts of our field - clinical and experimental - can come together, but this book marvelously stands out among the many attempts at exploring the interface between these two contexts. Wilma Bucci goes directly into the heart of psychotherapy process, and she does so in a truly interdisciplinary way: she looks simultaneously from different perspectives such as psychoanalysis, cognitive psychology and affective and social neuroscience. This is just what is needed, and the theoretical parts come alive through many clinical vignettes. We also receive a clear picture of the new developments of Wilma Bucci's line of research following her 1997 book Psychoanalysis and Cognitive Science: A Multiple Code Theory. This new book should be read by all those who are really interested in the revision of psychoanalytic metapsychology and in the scientific standing of psychoanalysis today. - Paolo Migone, M.D. Editor, Psicoterapia e Scienze Umane.


I have always had the utmost respect for Wilma Bucci's thinking. I believe it is important, even classic. And so despite the fact that she and I don't always agree, I am delighted to see this body of work brought together in a single source. The field of psychoanalysis and, more broadly, cognitive and affective neuroscience, need this collection. Here you will find statements of dual/multiple code theory, for which Bucci is justly famous, as well as elaborations and clinical applications of those views, including vivid case material. Bucci's highly significant work on dissociation, classic in its own right, is here, too. Psychoanalysts and their sympathizers should count their blessings that Bucci has been there to represent them in the wider world of cognitive psychology and neuroscience. This is a book with which every student of psychoanalysis and neuroscience should be familiar. - Donnel B. Stern, William Alanson White Institute, New York.
About the Author(s)
Wilma Bucci is Professor Emerita, Derner Institute of Adelphi University; Co-Director of Research at The New York Psychoanalytic Society and Institute; Honorary Member of the American Psychoanalytic Association, the New York Psychoanalytic Institute and Society, and the Institute for Psychoanalytic Training and Research; Member of Faculty of the Research Training Programme of the International Psychoanalytical Association.
William F. Cornell, MA, teaching and supervising transactional analyst, maintains an independent prvate practice of therapy, consultation, and training in Pittsburgh, USA. He is a co-editor of the Transactional Analysis Journal and has published extensively in a broad range of journals and psychotherapy books. He is the author of Explorations in Transactional Analysis: The Meech Lake Papers, editor of James McLaughlin's The Healer's Bent: Solitude and Dialogue in the Clinical Encounter, and co-editor with Helena Hargaden of From Transactions to Relations: The Emergence of a Relational Tradition in Transactional Analysis.
You may also like