The Journey of Soul Initiation: A Field Guide for Visionaries, Evolutionaries and Revolutionaries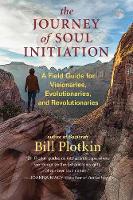 Book Details
Publisher : New World Library
Published : February 2021
Cover : Paperback
Pages : 320
Category :
Popular Psychology
Catalogue No : 95486
ISBN 13 : 9781608687015
ISBN 10 : 9781608687
Soul initiation is an essential spiritual adventure that most of the world has forgotten - or not yet discovered. Here, visionary ecopsychologist Bill Plotkin maps this journey, one that has not been previously illuminated in the contemporary Western world and yet is vital for the future of our species and our planet. Based on the experiences of thousands of people, this book provides phase-by-phase guidance for the descent to soul - the dissolution of current identity; the encounter with the mythopoetic mysteries of soul; and the metamorphosis of the ego into a cocreator of life-enhancing culture.
Plotkin illustrates each phase of this riveting and sometimes hazardous odyssey with fascinating stories from many people, including those he has guided. Throughout he weaves an in-depth exploration of Carl Jung's Red Book - and an innovative framework for understanding it.
About the Author(s)
Bill Plotkin, Ph.D., is a depth psychologist, wilderness guide, and agent of cultural evolution. As founder of southwest Colorado's Animas Valley Institute, he has, since 1980, guided thousands of women and men through nature-based initiatory passages, including a contemporary, Western adaptation of the pan-cultural vision fast. He's also been a research psychologist (studying nonordinary states of consciousness), professor of psychology, rock musician, and whitewater river guide. In 1979, on a solo winter ascent of an Adirondack mountain, Bill experienced a "call to spiritual adventure," leading him to abandon academia in search of his true calling. Bill is the author of Soulcraft: Crossing into the Mysteries of Nature and Psyche, Nature and the Human Soul: Cultivating Wholeness and Community in a Fragmented World and Wild Mind: A Field Guide to the Human Psyche. His doctorate in psychology is from the University of Colorado at Boulder.
You may also like