Doing Things Differently: The Influence of Donald Meltzer on Psychoanalytic Theory and Practice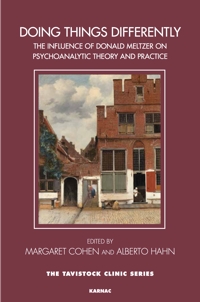 Book Details
Publisher : Routledge
Published : March 2017
Cover : Paperback
Pages : 288
Category :
Psychoanalysis
Catalogue No : 38492
ISBN 13 : 9781782204343
ISBN 10 : 1782204342
Also by Margaret Cohen
Also by Alberto Hahn
Doing Things Differently celebrates the work of Donald Meltzer, who was such a lively force in the training of child psychotherapists at the Tavistock Clinic for many years. The book represents the harvest of Meltzer's thinking and teaching, and covers such topics as dimensionality in primitive states of mind, dreaming, supervision, and the claustrum.
Reviews and Endorsements
'Overall, one of the most striking and moving aspects of the book is that the chapters, in their very different ways, come together to express what could be called something like "the generation of meaning". They are testament to the space for the "co-creation of imaginative conjectures" that one author describes, a process at the heart of what Bion thought of as the growth of the mind, the developing a mind of one's own, so compelling and so enabling for these authors, as for their readers. For threading their way through this book are countless examples, some fleeting, some deep and extended, of intellectual and psychic "growth", in the true sense of the word.
'As we see here, the way in which Meltzer taught, and the actual content, were inseparable: we hear of his wit and humour, his often surprising turns of mind and phrase, his surpassing originality and, as the authors here collectively attest, to the presence of something as elusive as "clinical intuition", learned not through trying to define the indefinable but through the nature of the insights found here in the case material described.'
––Margot Waddell, from the Series Editors' Preface
About the Editor(s)
Margaret Cohen a child and adult psychotherapist in private practice in London. She worked in the Department of Psychological Medicine at Great Ormond Street and then in the Neo-Natal Intensive Care Unit and Paediatric Oncology at The Whittington Hospital, London. She has written about prematurity among other subjects and has taught at The Tavistock Clinic, The Anna Freud Clinic and in Italy.
Alberto Hahn is a member of the British Psychoanalytic Society and works in a private practice in London. He also teaches psychoanalysis at the Tavistock Clinic, and lectures abroad. He is the translator into English of the Introduction to the Works of Bion and the editor of Sincerity and Other Works: Collected Papers of Donald Meltzer. He has written a number of clinical and theoretical papers, among them 'Observation and Intuition in the Psychoanalytic Situation', 'On Complaining', 'The Nature of the ""Object"" in the Claustrum', and 'Ways of Thinking about Adolescent Psychopathology'.
You may also like