Death and the City: On Loss, Mourning, and Melancholia at Work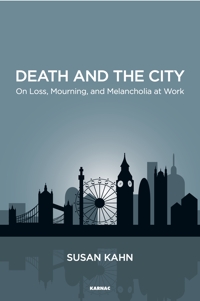 Book Details
Publisher : Routledge
Published : May 2017
Cover : Paperback
Pages : 200
Category :
Organisational Psychology
Catalogue No : 37510
ISBN 13 : 9781782203544
ISBN 10 : 1782203540
Our Customers Average Rating
Read all reviews (1)





Organisational collapse is part of our vernacular. Enron, Woolworths, Lehman's, Bank of America, Rover, BOAC, Northern Rock – these failures are part of our cultural experience of work. At a time when working lives are often vulnerable and organisational mortality is under threat from technology and the economy the consequences of organizational death are worthy of attention.
Organisations can face many different endings – sharp and brutal, premature, or carefully planned and premeditated – all these endings have emotional collateral damage. We are working in an environment where crises, failure, and demise are everyday features. Closure, merger, downsizing, redundancy, liquidation, insolvency, administration – this is the dialect of organizational life in a recession driven economy. Such vulnerability at work creates challenges for decision making, operational and communication delivery, as well as the loss and suffering of individuals involved.
Death and the City provides an in-depth portrait of an organisation in a palliative state. It transports the analytic concepts of mourning and melancholia and of the death drive into the workplace, and brings this important, but under explored, stream of psychoanalytic thought to the fore as a means of interrogating and further understanding organisational life.
The reader will gain an understanding of the experience and catastrophe of loss in the context of the global financial crisis. The pain of a slow corporate death and the acceptance of failure will be illuminated using psychoanalytic theory helpful to consultants and academics dealing with endings. This book offers an original and in-depth understanding of organisational closure, the inner world of the organisation seen through the inner world of the researcher.
Death deserves contemplation at a time when organisations are experiencing more exposure to endings than at any time in the last century. The book applies insights from psychoanalysis to provide a deeper awareness and understanding of the experience of these endings.
Reviews and Endorsements
'Death and the City addresses the key present-day taboo that stifles all potential work on the societal and financial quagmire we are all stuck in. Based on thoughtful observation, it follows in the footsteps of a group of anthropologists/psychoanalysts to give us a comprehensive picture from a socio-anthropological perspective. It is generally accepted that you can't address an issue unless you acknowledge its presence. Kahn exposes the dilemma in a new and innovative way, and thus makes a commendable contribution to addressing society's current woes.'
- Anton Obholzer, Emeritus Director, Tavistock Centre

'An innovative weave of psychoanalytic theory and detailed observation, Death and the City presents a fascinating portrait of a workforce caught in the experience of institutional crisis and failure, at once submitting to and resisting the snares of the death drive.'
- Josh Cohen, psychoanalyst (BPAS) and Professor of Literary Theory, Goldsmiths, University of London

'This is a well-researched volume that provides a timely, thorough, and valuable exposure of the many facets of the death of an organisation. The strength of this volume is the application of analysis and theory to an actual organisation death over an extended period. The organisational observation research employed by the author provides us with a unique, first-hand, account of an organisation going through the process of dying. It is a rich and fascinating source of learning that will be of considerable interest to those employed in the financial services sector; to students and practitioners of organisation consulting; and to leaders and managers of organisations and institutions.'
- Lionel Stapley, PhD, Professor of Organisation Coaching at Birkbeck, University of London, and author of Individuals, Groups, and Organisations Beneath the Surface

'Sex and death are two sides of the same coin. While one is repressed, the other flourishes. Freud's major contribution was to make the moribund Victorian bourgeoisie see that sex needed to be talked about. In a welcome return to Freud, Kahn argues that in today's permissive society, death and our reactions to it are strongly avoided – in particular when the notions of loss are not just about individuals, but also about groups, organisations and institutions. Acutely observed, Kahn offers her reader a ringside seat and chronicles the demise of a financial institution during the 2007 financial crisis and beyond. This book makes an important contribution to our understanding of the struggling human subject at work.'
- Dr Andreas Liefooghe, Birkbeck, University of London

'Presenting oneself as "embracing change" has become something of a given for the employee in today's fast-evolving professional and corporate environment, where flexibility and adaptability are understandably celebrated as highly valued attributes. Often less appreciated, however, is the potential psychological impact on those navigating change and coping with the loss of the familiar. By reference to the world of psychoanalysis, Susan Kahn shines a light, at times moving and compassionate, on the dynamics of an organisation in its death throes. And whilst this is of course a case study of an extreme and deeply negative corporate demise, its underlying themes and messages will be of interest to anyone seeking to understand the nature of change management and its implications.'
- Douglas Krikler, Group Development Director at Investec
About the Author(s)
Susan Kahn is a consultant, coach, and mediator. Her expertise is in the complexities of working life with a particular specialism in conflict at work, group dynamics, and the underlying mechanisms of leadership and teamwork. She is also a faculty member in the Organizational Psychology Department at Birkbeck, University of London. Her doctoral research focused on endings in organizations and the experience of working through crisis, change, and closure.
Customer Reviews
Our customers have given this title an average rating of 5 out of 5 from 1 review(s), add your own review for this title.
Sheldon Tenzer on 04/12/2017 14:43:03





(5 out of 5)
A fascinating insight into death in organisations. The author takes a unique stance into this complex topic, offering the reader a comprehensive picture of organisational endings. Would recommend this to many. A great read!
You may also like