Also by Molly Ludlam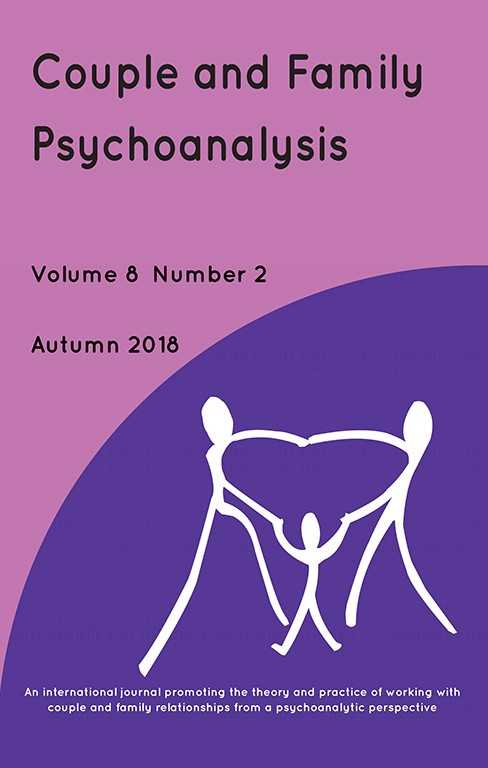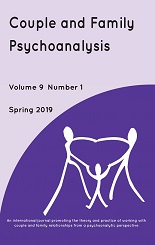 Couple and Family Psychoanalysis Journal is an international journal sponsored by The Tavistock Institute of Medical Psychology, and aims to promote the theory and practice of working with couple and family relationships from a psychoanalytic perspective. It seeks to provide a forum for disseminating current ideas and research and for developing clinical practice.
Editorial Molly Ludlum

Personal Views
Tributes to and Memories of James Fisher by Susan Hall, Andrea Hill, Stephen Isaacs, Shelley Nathans, and Joanna Rosenthall

Articles:
The Evolution of the Analytic Process: Poetry and Psychoanalysis, Twin "Sciences" of the Emotions by James V. Fisher

The Intolerable Other: The Difficulty of Becoming a Couple by Warren Colman

Curiosity by Mary Morgan and Philip Stokoe

Aesthetic Conflict in the Couple by Barbara Bianchini

Moments of Loneliness: A Shared Experience of Learning from Impasse in Couple Therapy by Sharon Alperovitz

Can a Narcissist Ever Marry? James Fisher and The Uninvited Guest by Brett Kahr

Book Reviews

Arts Review

Reports

Notes on Contributors

Forthcoming Events

Instructions to Contributors
About the Editor(s)
Molly Ludlam is a psychoanalytic psychotherapist with couples, individuals, and parents in private practice and a Full Member of the British Society of Couple Psychotherapists and Counsellors, and Member of the International Council of Editors of Psychoanalytic Journals. She is author, editor and contributor to many books and journals.
You may also like