Also by Molly Ludlam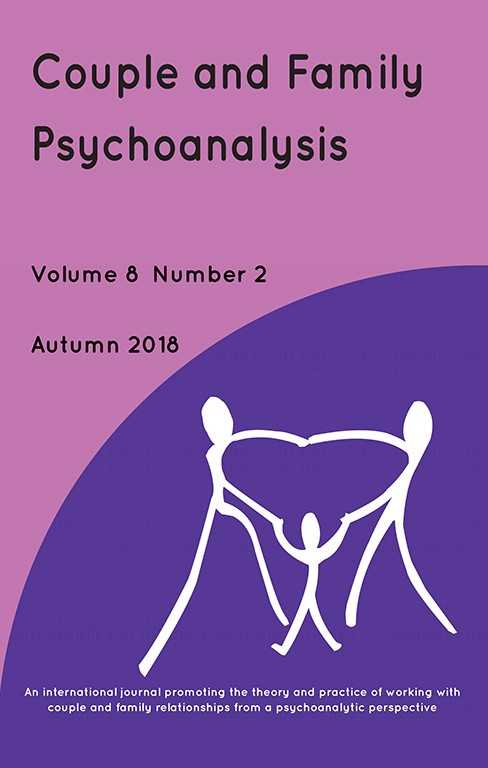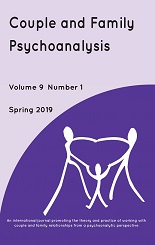 Couple and Family Psychoanalysis Journal is an international journal sponsored by The Tavistock Institute of Medical Psychology, and aims to promote the theory and practice of working with couple and family relationships from a psychoanalytic perspective. It seeks to provide a forum for disseminating current ideas and research and for developing clinical practice.
Editorial Molly Ludlum

Personal View
Place: a Sense of Yearning to Belong and to be Recognised by Honor Rhodes

Articles:
Developing a Mentalization-Based Treatment (MBT) for Therapeutic Intervention With Couples (MBT-CT) by Viveka Nyberg and Leezah Hertzmann

From Container to Claustrum: Projective Identification in Couples by Tamara Feldman

Children as Collateral in the Fear of Becoming Forgotten: Death Anxiety as the Ultimate Loss by Robert Waska

Sexual Desire Disorder: A Case Study from a Dynamic Perspective by Norma J. Caruso

Psychotherapy in Translation: One Clinician's Experience of Working with Interpreters by Barbara Dearnley

Meeting the Author
An Interview with Barbara Dearnley by Catriona Wrottesley

Book Reviews

Arts Review

Notes on Contributors

Forthcoming Events

Instructions to Contributors
About the Editor(s)
Molly Ludlam is a psychoanalytic psychotherapist with couples, individuals, and parents in private practice and a Full Member of the British Society of Couple Psychotherapists and Counsellors, and Member of the International Council of Editors of Psychoanalytic Journals. She is author, editor and contributor to many books and journals.
You may also like