Couple and Family Psychoanalysis: Volume 13 Number 1 – Special Issue: Private lives in a global storm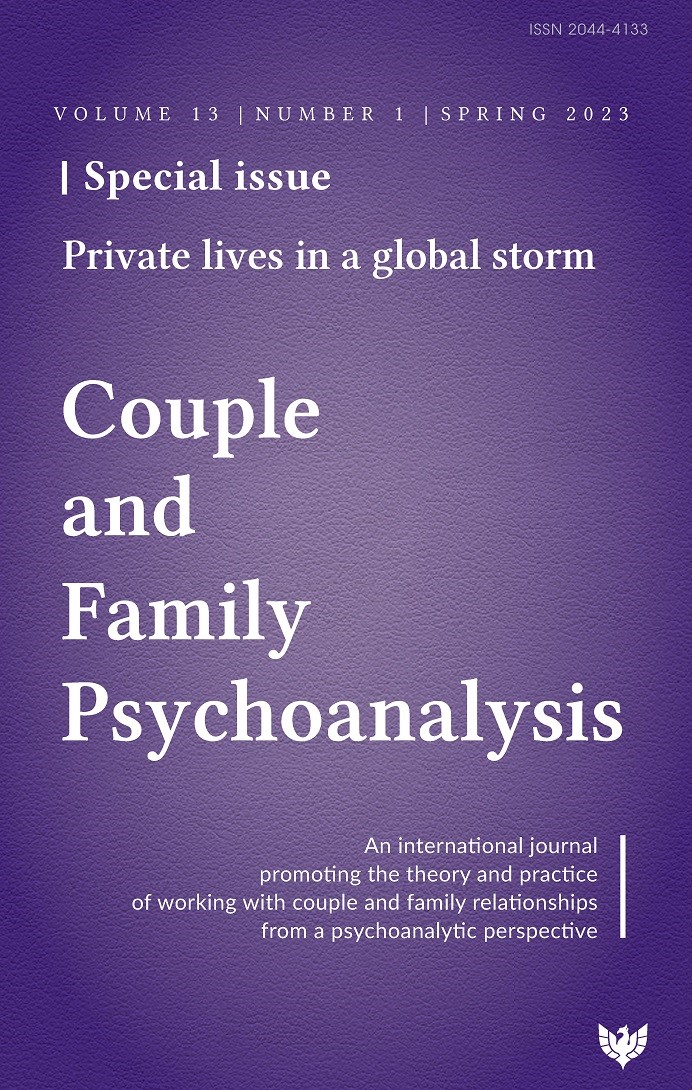 Also by Christopher Clulow
Couple and Family Psychoanalysis is an international journal sponsored by The Tavistock Institute of Medical Psychology, which aims to promote the theory and practice of working with couple and family relationships from a psychoanalytic perspective.
CONTENTS
EDITORIAL by Lorna Robinson, Julie Friend, and James Poulton
ARTICLES
– The personal, the political, and the psychotherapeutic by Christopher Clulow
DOI 10.33212/cfp.v13n1.2023.1
– Facing a new reality: psychotherapy against the background of war by Mira Konina
DOI 10.33212/cfp.v13n1.2023.17
– Symptoms of normality: boundaries, identity, and symbolisation by Fabio Monguzzi
DOI 10.33212/cfp.v13n1.2023.29
– Sabina and me: how thinking about Sabina Spielrein accompanied me through the early pandemic by Kathy Sinsheimer
DOI 10.33212/cfp.v13n1.2023.39
– Family and the turbulent world by Ruth Blay Levisky
DOI 10.33212/cfp.v13n1.2023.56
– The Covid-19 pandemic: mourning in Brazilian families by Glenda Beigler, Marina Figueiredo, Cristiane Lopes, Flávia Steuer, Maria Inês Tassinari, and Myriam Uchitel
DOI 10.33212/cfp.v13n1.2023.69
– How far do current theories and techniques go towards helping the families and couples of today?
By David E. Scharff
DOI 10.33212/cfp.v13n1.2023.84
BOOK REVIEWS
– Hating, Abhorring and Wishing to Destroy: Psychoanalytic Essays on the Contemporary Moment edited by Donald Moss and Lynne Zeavin. Reviewed by Robert Monzo
– The Marriage Portrait by Maggie O'Farrell. Reviewed by Catriona Wrottesley
– The Burden of Heritage: Hauntings of Generational Trauma on Black Lives by Aileen Alleyne. Reviewed by Naomi Segal
ARTS REVIEWS
– En thérapie created by Eric Toledano and Olivier Nakache. Reviewed by Wayne Bodkin
– The Beatles: Get Back directed and produced by Peter Jackson. Reviewed by Martha Doniach
Parallel Mothers directed by Pedro Almodóvar. Reviewed by Elle Sidel
About the Author(s)
Christopher Clulow, PhD, is a Senior Fellow of the Tavistock Centre for Couple Relationships, London, where he works as a visiting lecturer and researcher. He has published extensively on marriage, partnerships, parenthood and couple psychotherapy, most recently from an attachment perspective. He has a long history of contributing to thinking about the processes involved in ending relationships, and his most recent work has involved heading up a project identifying competences for treating depression through couple therapy under the Department of Health's Improving Access to Psychological Therapies initiative. He has also recently consulted to and evaluated interventions provided by a mental health agency to reduce depression in parents of young children. He is a founding member and past Deputy Chair of the British Society of Couple Psychotherapists and Counsellors and a member of the editorial board for the journal Couple and Family Psychoanalysis.
You may also like