Also by Molly Ludlam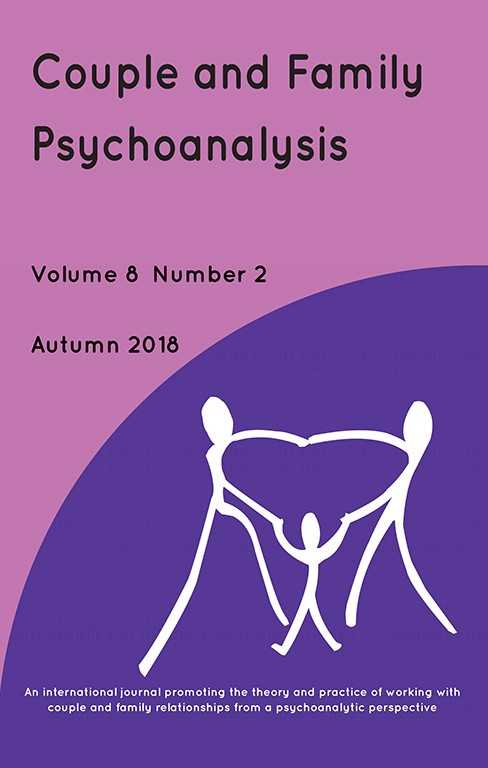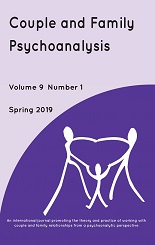 Couple and Family Psychoanalysis Journal is an international journal sponsored by The Tavistock Institute of Medical Psychology, and aims to promote the theory and practice of working with couple and family relationships from a psychoanalytic perspective. It seeks to provide a forum for disseminating current ideas and research and for developing clinical practice.
Issue Contents:
John Carl Flügel: The Forgotten Pioneer of Couple and Family Psychoanalysis - Brett Kahr

Psychological Aspects of Marriage and the Family (1935) - John C. Flügel (Edited and annotated by Brett Kahr)

Explorations With Families: A Model for Initial Family Therapy Meetings, Based on a Psychoanalytic Approach - Sally Box

Anger and Aggressiveness in Couple Therapy: Some Clinical Considerations from an Intersubjective Perspective - Fabio Monguzzi

Some Reflections on Reparation in Post-Apartheid South Africa, using a Couple Therapy Intervention as a Microcosm of South African Society - Andrea Hill and Sylvia Poss

Couple Work in South Africa: An Historical Overview from Cape Town - Andrea Hill and Adrian Perkel

The Self and Others: An Exploration in Poetry - Gerard Rochford

Behind Closed Doors: Reports of Physical Abuse and How to Handle Them - Marilyn Meyers
About the Editor(s)
Molly Ludlam is a psychoanalytic psychotherapist with couples, individuals, and parents in private practice and a Full Member of the British Society of Couple Psychotherapists and Counsellors, and Member of the International Council of Editors of Psychoanalytic Journals. She is author, editor and contributor to many books and journals.
You may also like