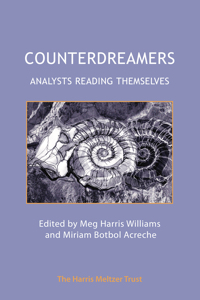 Book Details
Publisher : Harris Meltzer Trust
Published : April 2018
Cover : Paperback
Category :
Psychoanalysis
Catalogue No : 93468
ISBN 13 : 9781912567218
ISBN 10 : 1912567210
Also by Meg Harris Williams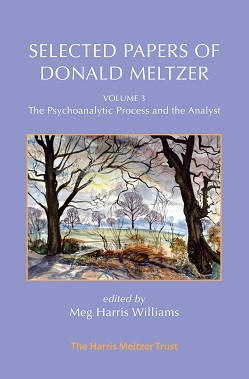 'Counterdreaming' is Donald Meltzer's term for the psychoanalytic reverie that arises from the countertransference during the session, in response to the analysand's own dreams and phantasies. He writes: 'It is difficult to explain the technique of counterdreaming… I compare it with waiting in the dark for the deer, grazing at night, seen by their flashing white tails.' This nocturnal vigilance is on the alert for movement of the quarry, part object minimal movements which with patience can be seen to form a pattern of incipient meaning cast before.
The contributions in this book belong to analysts and psychotherapists of widely different ages and experience and from a variety of countries, languages, and institutional affiliations. Their experience of counterdreaming, sometimes in the form of actual dreams and sometimes as dreamlike reactions to specific clinical situations, makes vivid the struggles and rewards of the method. In addition to viewing the psychoanalytic session from the other partner's vertex, they help to establish the senses in which the practice of psychoanalysis may be seen as an autobiographical art–science rather than solely investigating confidential material of the analysand. Contributions suggest it can apply also to technology-mediated analysis; and is also an appropriate way of seeing supervision situations.
About the Editor(s)
Meg Harris Williams, a writer and artist, studied English at the Universities of Cambridge and Oxford and art at the Accademia di Belle Arti in Florence, and has had a lifelong psychoanalytic education, working closely with Donald Meltzer. She has written and lectured extensively in the UK and abroad on psychoanalysis and literature. She is a visiting lecturer for AGIP and at the Tavistock Centre in London, and an Honorary Member of the Psychoanalytic Center of California. She is married with four children and lives in Farnham, Surrey.
More titles by Meg Harris Williams
Miriam Botbol is a clinical psychologist and a founder member of the Psychoanalytic Group of Barcelona (GPB) which supervised with Donald Meltzer for many years. She works with children and adults and has a special interest in parents. She taught in Barcelona and Rosario, Argentina, where she lives now. She has published chapters in various books, such as: Teaching Meltzer: A Meltzer Reader, Bebés: experiencias desde un vértice psicoanalítico, De un taller psicoanalítico a partir de Donald Meltzer. She is the author of the books Bebé, bienvenido al mundo (0-3 años), El orgullo de descubrir (3-6 años) and Sueños, símbolos y perspectiva estética: Un trayecto psicoanalítico personal en compañía de Donald Meltzer.
You may also like